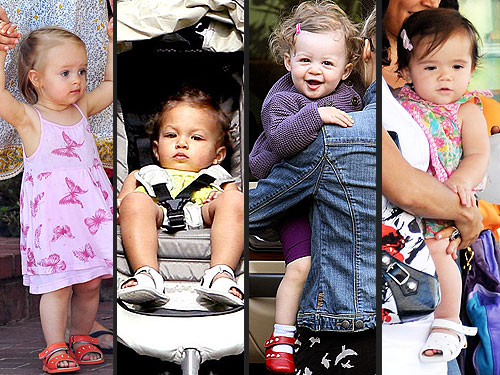 Bauer-Griffin; INF; Ahmad Elatab-SaleemElatab/Splash News Online; Ramey
We love See Kai Run's buttery soft leather toddler shoes with super flexible soles (and their Smaller line for infants) so it's been fun to spot all of the celebrity kids wearing the line lately! In the last few weeks along, we've seen Halle Berry's daughter Nahla Aubry lounging in her white Sara sandals ($38) and Nicole Richie's daughter Harlow Madden make multiple appearances (here, here and here) in her sweet red with white hearts Monica ($32) and pink Tamar ($32) mary janes from the Smaller line.
We've also seen both Salma Hayek's daughter Valentina Pinault and Tobey Maguire's daughter Ruby in the white Indria ($34) sandal and Julia Roberts' youngest son Henry Moder in the Isaac sandal (on sale for $25.50). (Ruby's also worn the orange Raedan sandals ($34)).
As a shoe for your first walker, they really can't be beat. Pediatricians and experts agree that the best shoes for new walkers are no shoes, but if you're going to be in public or on concrete, you'll want exactly the same time of soft flexible sole that See Kai Run shoes have.
Check out our reviews of See Kai Run's Smaller line, their original toddler line and their kids line eleven (so named for the way your footprints look in the sand).
– Danielle