Maya Rudolph Jokes About 70 Pound Weight Gain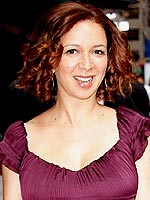 Jeffrey Ufberg/WireImage
In a humorous Tuesday appearance on The Late Show with David Letterman, actress Maya Rudolph bravely admitted that during her first pregnancy — with daughter Pearl Bailey, now 3 ½, — she gained a whopping 70 pounds. "I don't think that was smart," she joked.
"I think just about everywhere I went, about three times a day, I got the whole 'Whoa, you're huge!' Like everywhere. And then the old standby: 'How many months are you…What are you having, twins?'"
Although she said she considers the recommended pregnancy weight gain of 25 pounds to be "crazy," Maya, 36, nonetheless admitted that with her second child she is "trying to be more aware" of what she eats. "Last time, I was eating pancakes and ice cream every day," she revealed.
One thing she does plan to replicate with her second pregnancy is a delivery surprise; Maya said that she and partner Paul Thomas Anderson will not find out whether they are poised to welcome a son or a daughter. She explains,
"We didn't find out with [Pearl] which was kind of fun. Because when you're ready to throw in the towel and you've got nothing positive to think about or feel, because you're so heavy and you want to float in a pool of salt water to be buoyant, it was nice to have something to look forward to."