Kelly Ripa's Son Joaquin is 'Going to the Dark Side'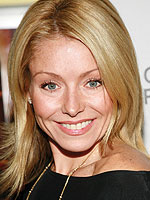 Charles Eshelman/FilmMagic
With both of their parents in show business, it's no surprise that Michael Joseph 12 next month, Lola Grace, 8 next month, and Joaquin Antonio, 6, are dreaming big when it comes to their future! In the May 11th issue of OK!, Live with Regis and Kelly co-host Kelly Ripa opens up about her children's aspirations, saying, "Lola wants to be a pony doctor, which I believe is called a veterinarian." While Michael is interested in pursuing a career as a cartoonist, it is little Joaquin who seems to have taken a more unusual route — as Darth Vader!
"Yep, I've got one going to the dark side."
A mom of three who juggles both motherhood and her co-hosting duties, Kelly admits that she doesn't have all the answers when it comes to maintaining a perfect balance between the two. "I try my hardest at work and at home," she says. "I'm very lucky in that I have the best hours a person could hope for; I get to pick my kids up every day from school and take them to all their activities."
Although viewed by millions each morning, the 38-year-old — who is reluctant to "disturb" the "good balance" in her family of five by adding another child to the mix — believes she is far from a role model by her own standards. Despite not feeling as if she is an inspiration to others, she shares she turns to her audience members for strength. "I'm constantly meeting working moms in my audience who achieve so much in their lives that I feel encouraged and empowered by them," she explains.
"We're all going through the motions of working and raising our children and being good wives — as best we can."
Michael, Lola, and Joaquin are Kelly's children with husband Mark Consuelos.
Source: OK!; May 11th issue
— Anya