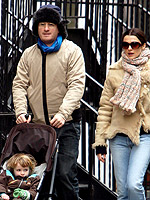 Freddy Baez/Ramey
When most mothers discover they are expecting their first child, trips to the bookstore or late-night searches online often become a normal routine. The same, however, cannot be said for actress Rachel Weisz who skipped the pregnancy literature all together! "I think the most incredible thing for me was that I didn't read any books about how to be a mom," she tells PARADE. Instead, the 39-year-old proudly admits she relied on none other than her natural, gut feelings.
"Your instinct kicks in and it's like you're tapping knowledge that you have in your DNA."
After all, Rachel says, she is not alone in her journey through motherhood and has simply joined forces with "the millions and millions of women on the planet who are working moms," as she struggles to find a balance between spending time with son Henry Chance, 3 this month, and nurturing her acting career.
Fortunately for Rachel, show business has made the responsibilities of motherhood all that much easier. Considering herself among the lucky few that can easily bring her child to work, the actress realizes that her childcare solutions are not a reality for most mothers. "If you work in an office or a factory, your kids can't come visit you during the day," she explains. "On films there's a lot of down time so he's with me a lot."
That said, Rachel laughs that she has found a fault in keeping her little boy on set all day. "The only problem is that everyone is spoiling him rotten," she laughs.
Henry is the only child for Rachel and fiancé Darren Aronofsky.
Source: PARADE
– Anya