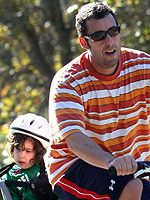 KM Press
Sadie Madison Sandler recently celebrated her third birthday, and dad Adam Sandler said during a recent appearance on The Tonight Show with Jay Leno that his daughter made out like a bandit! "I have a lot of friends, and they're very nice to Sadie," he noted. "She got an insane amount of gifts." Some of the gifts have been a bigger hit than others, however! "The toys are scary at night," the 42-year-old actor explained. "We leave them on the floor like crazy people." On his way to the kitchen for a late night snack, Adam stepped on some toys that gave him quite a fright! He joked,
"It said 'Let's play!' I stepped on another, and I hear, 'What's your name?' I stepped on another and it said, 'I'm gonna kill you, you rich bastard.' And I flipped on the light and I stepped on my nanny. Yeah, she hates me."
Sadie had some unrealistic expectations of who would attend her party, so Adam improvised. "I watch movies with her, like Sleeping Beauty. So Sleeping Beauty is on, she points to Sleeping Beauty [and says], 'I want her to come.' Cinderella is on, [she says], 'We have to ask Cinderella to come,'" he explained. "You hate to let down your kid."
"So I said, I can't get those guys, but I can get two of The Seven Dwarves. So I had [Rob] Schneider and [David] Spade come. Grumpy and Sleazy!"
As for new baby Sunny Madeline, 6 months, Adam revealed that his younger daughter just started solids. "My kid didn't like the cereal that much, so I ground up some prime rib and she loved it," he joked.
Sadie and Sunny are Adam's children with wife Jackie.
Source: The Tonight Show with Jay Leno
– Missy