Steal That Style: Headband Happy
While Natalie Morales may still count on the classic scrunchie, more and more celeb moms are pulling out the headbands for their baby girls! Whether to keep long bangs away from their eyes or simply to top off an adorable outfit — Honor Marie's short hair doesn't stop mom Jessica Alba from loving the trend — we have noticed that celebrities have gone headband happy.
With Katie Holmes opting for a simple band when it came to her daughter Suri last December, Nicole Richie's little Harlow Winter Kate has shown off quite the selection in a variety of styles! Other fans of the headband craze include Chloe Ava, who showed off her frilly headband while out with her dad Byron Allen, adorable baby face Peyton Nicole while attending a recent event with dad Kenneth 'Babyface' Edmonds, and Stella Doreen, sporting quite the headband while keeping mom Tori Spelling company at a book signing.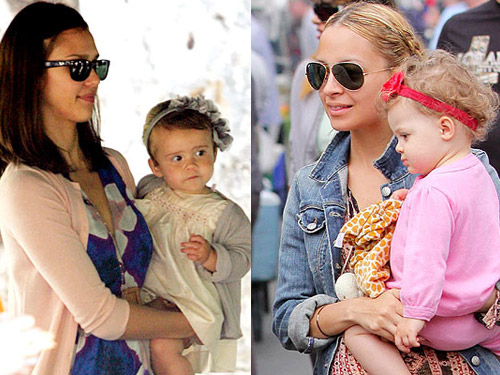 Right/Fame, Limelight
Steal That Style and go headband happy with the floral looks below!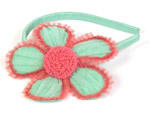 Lola Et Moi Blue Headband
Breaking Bank: A favorite of Jessica's — we've seen Honor sporting clothes from here quite a few times! — Lola Et Moi carries some of the cutest and most unusual headbands around. While the price may make you cringe, their whimsical flowers and adorable selections are a hit among celebrities!
Favorites: We have our eye on Lola Et Moi Blue Headband With Flower ($35) and we are loving Jamie Rae Peony Headband ($18).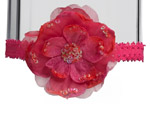 No Slippy Hair Clippy Deep Pink Flower
Not Pinching Pennies: Famous for their no slip policy for their hair clips, No Slippy Hair Clippy's headbands are equally as adorable. With a wide variety of colors and styles, you're sure to find one you and your little girl can both agree on!
Favorites: Check out the No Slippy Hair Clippy Deep Pink Flower ($10) and the Janie and Jack Flower Headband ($12).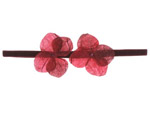 Baby Lulu Deep Red
Bargain Buying: Simple look, great price! Forget Me Not Kids has a great — and very large — selection of adorable headbands from a variety of different brands. If you've got your eye on one in particular, check back often for a sale!
Favorites: Keep it simple with Baby Lulu Deep Red Headband ($4.50) or the Plum Pudding Red Velour Headband ($6.60).
— Anya