Gretchen Wilson and Daughter Proud to be Redneck Women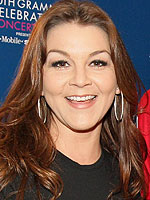 Chris Polk/WireImage
Country singer Gretchen Wilson is happy to call herself a redneck woman — and so is her 7 ½-year-old daughter Grace Frances! "My daughter is a redneck woman, she's a redneck girl," explains Gretchen, and says that as a mom, she couldn't be prouder about it. "To me, redneck is a sense of self and a way of life. My daughter is proud of who she is regardless of what anybody tells her she's supposed to be."
Gretchen tries her hardest to be a good influence for her daughter, and that's one reason why she went back to school and received her GED last year. The mom has no doubt in her mind that Grace will go on to finish school.
"Mothers and daughters have that rivalry thing. And now that I have my diploma, I have something that she doesn't have. So I have a feeling just knowing her and knowing she's like me, she'll have to have one, too."
Gretchen, 35, burst into the country scene in early 2004 with her hit Redneck Woman. Her fourth album, I Got Your Country Right Here, is set to be released this summer.
Grace's father is Mike Penner.
Source: USA Today
– Angela