CBB Talks to Nicole Ari Parker and Boris Kodjoe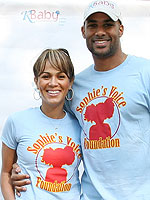 Donald Bowers/Getty
Parents and actors Boris Kodjoe and Nicole Ari Parker recently opened up in PEOPLE magazine about their 4-year-old daughter Sophie's battle with spina bifida, and now the couple has talked with CBB as well! We spoke to the couple just before the R Baby Mother's Day Run/Walk in Central Park.
Living with Sophie's spina bifida has opened Nicole and Boris' eyes to what all parents need to know about emergency rooms because, "we've spent a great deal of time in the ER with Sophie and now understand that all ERs are not created equal. We support R Baby in their work to improve the quality of pediatric emergency medicine and to educate parents about the full range of issues surrounding children and emergency rooms."
They talked to us in-depth about caring for Sophie's health issues, their foundation Sophie's Voice's three-tiered approach to spina bifida, and of course, CBB reader questions!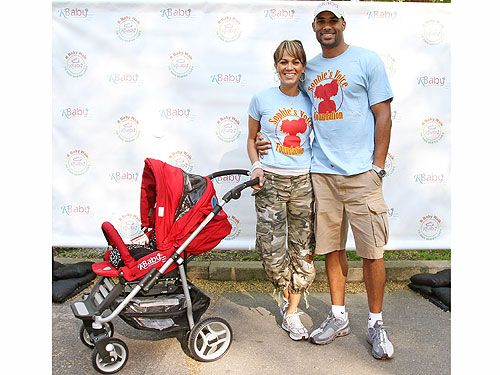 Donald Bowers/Getty
CBB: What are you planning for Mother's Day?
Boris: We'll be celebrating Mothers' Day in Central Park [participating in the R Baby Walk], and hopefully mommy and daddy are going to get some time after the walk to celebrate by ourselves a little bit.
You met the R Baby founders through your mutual involvement with emergency rooms. Can you tell me more about that?
Boris: Basically we met Andrew and Phyllis [Rabinowitz, the founders of R Baby] through mutual friends and she got all of us together because she thought both of our missions were compatible, because we talk about our children, babies. We got together and we found out what had happened to Andrew and Phyllis, and really admired their strength and their commitment to trying to make sure something like the death of their child wasn't going to happen to other parents.
We really were educated by them about the state of emergency rooms and the fact that there are no pediatric ERs, or not that many, available. When people come to the ER they're really treated as cattle.
Nicole: There's no urgency, and you're treated like a hysterical parent a little bit. We found that, because spina bifida causes a lot of… you have to be alert a lot. At any given moment your child could spike a fever, and you can't treat it lightly, because it could signify some kind of kidney deterioration or infection. So we've had our fair share of alarming nights and we sat for a very long time, waiting for the proper care. So we really identified with their cause. So that's where we related to what they were doing.
Can you tell me about what you're doing with Sophie's Voice right now?
Boris: For one, we're trying to raise awareness for the birth defect, and what it is, what it's about and how it can be prevented. Also helping people know where to get help, where to get answers. When you're first diagnosed with such a thing you're pretty helpless, because there's not a lot of information you can find just by calling your doctor. We're also raising money for research, for surgical studies and we're trying to give voices for hundreds of thousands of people who know someone or have a child with that diagnoses and don't really know what to do.
When we first dealt with our daughter's diagnosis, you're sort of caught in this dark hole, like somebody is hitting you over the head with a sledgehammer, and you barely recover from that in the first place. And then finally we realized that this happening to us is less about us than it is about other people. There are so many people out there that don't have the voice that we have to not only raise awareness but also scream and cry and ask questions and be heard. So we said, "OK, we have a voice, we can reach people. Let's get out there and see how we can help." By doing that, it helps us get better. So it was a natural progression out of the shock and spiral to move into helping other people.
What does Sophie understand about spina bifida and about the foundation named for her?
Boris: Well right now I don't think she has a concept of the organization. She knows that she pee pees differently. But she is completely a very normal girl. She can run, she can do ballet, she can jump, she can do gymnastics. She can do anything that any other girl can do, and knows that after three hours mommy and daddy are going to come and pick her up. That's the only really difference.
Nicole: We're at the age now where we haven't really crossed the bridge of slumber parties and friends out and teenager life, and the responsibility of self-cathetering. Right now, we're as close to sterile as we can be with each catheter. But I worry that she's going to have to do this herself, and will she know the importance and urgency, the danger of infection. We worry a lot about her future, but her present status now is totally joyful. We couldn't ask for a better demeanor from a 4-year-old in terms of her condition.
She doesn't know her health issues are different from any other little girls?
Nicole: No, she knows it's different. She sees the way mommy goes to the bathroom. It doesn't phase her. The only thing that's ever been said is, "One day I won't use these [catheters] anymore."
Is that something that's true? Will it ever be corrected, or is it something you hope for?
Boris: Well we have hope, obviously medicine evolves. We're supporting a surgical study called the Dr. Xiao Procedure, which is a revolutionary surgery that could potentially change people's lives.
Nicole: Not just kids with spina bifida, but adults who've had some kind of spinal injury from sports or a car accident. It's basically rerouting a nerve from your leg and sticking it to your bladder, and observing you post-surgery to see if the neurological electrical impulses will signal the bladder to open and close automatically instead of spasming.
That's pretty much our focus. We need to see if this works, where it doesn't work, who it works on and what the criteria are for it to work. There are so many things that go into a surgical study. Medicine is evolving and there's so much hope on so many levels. It's almost like a flow chart of all the babies born last year with spina bifida. 75 percent of them were preventable. So that's the first leg of our mission: To make sure that women know that the one sentence in their pregnancy book that says to take folic acid is italicized for a reason. It's not to be taken lightly. You must take your folic acid if you're engaging in sexual activity with the intent or without the intent to get pregnant. It's for your own good, it's just a B vitamin you can get at the drug store.
The other part of our mission, is if you already have it, and don't know how you got it, figuring out what happened. Like my Sophie, we don't know all the answers. So we want to help improve the quality of life, supporting moms and dads and families that are given this diagnosis when their baby is born. Their whole life is turned upside down; your daughter or son automatically needs five doctors outside of their pediatrician: A kidney specialist, a physical rehabilitation expert, a leg brace manufacturer. There's a whole team that swoops down on you and you have to be alone to manage all those visits. There are 5- or 6-year-olds going to school still in diapers, and a lot of peer pressure and parents are fighting on their own in small towns all over America to stop the bullying. Spina bifida affects every single aspect of your life, from your child's self-esteem to your ability so sleep at night. And so, we're really trying to support the families of the 25 percent that do have it.
We're also dedicated to helping modern medicine evolve, like the Dr. Xiao Procedure. So it's really a three-tiered effort: Prevention and education, support and outreach, and thirdly, funding clinical studies that we can get approved by hospitals and making sure they're available to the public once they're approved.
There has to be advocacy. Everybody has something. I have friends struggling with autism, juvenile diabetes. Congress is burdened by all these petitions, so someone has to fight and make spina bifida come up a couple of notches on the list. It's growing rapidly, but there's no voice. Sophie's Voice has to make sure we make a difference.
What can our readers do?
Boris: Well, besides numerous resources on the Internet that you come across when you Google it, I think our site, Sophie's Voice Foundation, is probably the most comprehensive way of not only getting information, but also getting in touch with other people who have it or know somebody who have it – we have a forum. People come and talk about their fears, their concerns and everything from nutrition to daily obstacles they have to overcome. People have embraced us as sort of a center where they can come and just vent if they have to, or want to. A lot of people on our site are just exchanging information.
Also, in terms of doctors and hospitals, that's one thing we want to change. Like Nicole said, there are not enough centers in the country to address these issues. We help those people get in contact with proper sources that will help them out. I would always say come to sophiesvoicefoundation.org and post your question.
Nicole: Or just give us a call! We're still so small and so reachable, you'll get a real person.
Boris: We have a great CEO who has been doing this for a very long time. He joined us late last year, and he's an amazing guy who can answer all your questions. We've really built a community of people who want to reach out and share, and we still find out new stuff every day from other people. I shared recently on the site what we feed our daughter, in order to make sure her bowels are OK.
Nicole: Because a lot of times the medicine that softens the bladder constipates the colon and creates the need for more laxatives which increases the rate of infection. It's a vicious cycle. Sometimes you just need help on how to manage your life.
The ironic thing is that folic acid is found naturally in dark leafy green vegetables. And the thing that's helping Sophie the most in her bodily function has been dark leafy green vegetables. We can't really afford to do the, "OK, don't eat your spinach" game at dinner; we have to get spinach in somehow. We have all the kids' cookbooks on how to get the kale in, and the green beans and the broccoli.
Vegetables are a big part of our life; you can't underestimate the power of food. I really believe in that, too, as part of our mission. It's not a coincidence that the decline in fresh vegetable consumption coincides with a higher incidence of spina bifida diagnosis. And the family unit sitting down to eat three square meals a day that include vegetables is not happening in our country. We're all moving at such a high rate that we have to grab the frozen dinners and the McDonald's. We can't make it a way of life – we have to get back to real, simple, clean good foods. It will save our lives on so many levels; not just spina bifida, but obesity, diabetes, everything. Food is our medicine.
You're into alternative therapies, right?
Nicole: Yes. In the beginning, there was a loss for how to make her life as easy as possible. We really investigated acupuncture and acupressure massage, and we learned a lot about the way the nervous system works, the pathways of how information travels. Because we didn't take the route of augmenting her bladder, we tried to stimulate her natural ability to go to the bathroom. So we went to an acupuncture specialist and said we wanted to stimulate her system and see how it works. But getting a 2-year-old to lay down for that was not very productive, so we did maybe 10 sessions. She tried something with magnets, instead of needles, too. She said, then, for the next two years she'd show us where to massage Sophie, and said it would be just as effective at her age. So twice a day, we took these points on her legs, belly and back along her spine, and gave her very intense 30-minute massages at naptime and bedtime. It's been very effective. You have to commit – it's not an easy fix – you're already tired.
In the beginning, Boris and I were cathetering through the night: Bedtime was at 8, she was up at 11, then again at 2 and at 5 and again at 8 in the morning. But we were so determined to make sure her bowels worked without stool softener and that her bladder did develop even though it was so sick. We really invested in these massages because it was our only hope. We really believed they would work, and they did. She was able to pass bowels, but she'd get constipated, and that's where the herbal remedies came in. We found this great website called dherbs.com, and they're glycerin-based, all-natural, very affordable child-friendly remedies. They have a whole slew of herbal supplements for children. So that really helped us with Sophie, making sure she was getting her vitamin and mineral intake.
We cut back on salt so her kidneys weren't under a lot of stress. In terms of infection, we were told to keep her on a daily antibiotic. A lot of parents of children with spina bifida keep their kids on antibiotics because the infection threat is so frightening. Because Boris and I were so committed to the cleanliness of each cathetering moment, we felt that we didn't want to tax her digestive system with the heavy antibiotics. Plus, she turned out to be allergic to everything, so the only antibiotics that would work were the strongest ones, which created other problems. She couldn't stomach a lot of food after taking them.
So we found this incredible alternative – and I don't want to advocate alternative remedies because I know antibiotics are keeping a lot of children alive – but for us, we found the alternative called UTI Clear from a company called Native Remedies. And it did have a very powerful effect on her bowels, so we literally give her two drops, because three creates a mess. So we give her that, and it's how we supplement the Western medicines and the rest of her life.
Readers Giftbox and Eva wants to know how you balance caring for a child with a serious health issues with one who doesn't have health issues. You have two children, so how do you balance your family focus and attention on both, to make them feel special?
Boris: We don't do anything special or anything different than other people with two kids. You have to spend quality time with both. We do a whole lot of stuff with both.
Nicole: Remember our case is different. There are kids who have leg braces and wheelchairs and have to go to a different playground or summer camp altogether. This is a big burden for many families. We're in a slightly different category of extreme scenarios with our child, but we do know a lot of families through Sophie's Voice that are struggling with this. Honestly, we have to remember we have a child who can run, walk, wants to go swimming, to the beach, to play catch. It's a challenge.
Reader Mary want to know about challenges in school for Sophie. Does she attend nursery school? Are you thinking ahead to elementary school and the challenges she and other kids with spina bifida have?
Nicole: Right now the only challenge is making sure we empty her bladder every two hours. We have to walk softly and talk to the school system and figure out how we'd interrupt her classroom as discreetly as possible. We don't want kids to ask, "Why is your mommy here? Why is your daddy here?"
We've worked out a system with her teacher where she's gently told that mommy's there, and she knows what it's for. She comes and meets me in another part of the school, and we go to a private building. We catheter – it takes four or five minutes – then she goes back to class. That's where we are now in Montessori, but I don't know what it's going to be like in first or second grade. I'll try to do the same thing, but right now she's in half-day, so we catheter once and she comes home and is with us. But full day next year might mean we go to school twice to catheter.
What are issues that other kids with spina bifida have besides cathetering?
Boris: You have the obvious issues: Leg braces, wheelchairs, diapers. There are those issues that are very sensitive, for adults it's one of the most dehumanizing things a human being can go through. They have social effects on a person, because then you don't want to go out anymore, you don't want to mingle, be stared at. Those are very serious psychological issues for someone to have. It really is a huge pressure on the person, but on his or her family and friends, too. You're dealing with a population of people that is sort of grouped together with other birth defects, like MS and other diseases that will put you in a wheelchair. Those are the obvious effects that it has.
Then there are other issues when you're dealing with your family, self-image and confidence, too. All those things play into raising a child with spina bifida, and you have to be very sensitive to those things.
There are also issue the immediate family has to deal with. You have mothers and fathers who never get a break, are constantly exhausted. Most of them have two or three jobs and a child that needs extra-special care. It adds a very tough burden on family life. The cost of raising a child with spina bifida is 13 or 14 times the average cost of raising a child. Most people can't afford the extra support and the extra help you might need.
It's a very tough situation, and that's why we're trying to help people who have been diagnosed with even just talking to them, encouraging them, giving them something they need. Nicole got one of the children and autographed picture of their WWF hero, just to put a smile on his face. That's why we wanted to form a community, for people to come out, share and support each other.
Reader Mary wants to know about how you balance being parents and actors.
Boris: It's not really balancing, it's more setting priorities. Our family is our priority. Whatever I have to do to make them happy, it comes first. Everything else will fall into place. It's tough on us because we have to really schedule wisely, we can't just up and leave because we have Sophie and we need care for her. So either I work or Nicole works; we can't work at the same time.
We choose to be there for her, because having a stranger caring for her is hard. She's only 4 years old and it's a very personal matter, when you're talking about cathetering at specific times of day. We don't want her to think that this is a public access situation where a nurse can come and do it, a medic can come and do it. We want her to know it's very important to be hygienic and keep it private. So that's why we decided we're committed to doing it. Obviously there are sacrifices to make for that in terms of work.

Reader Mary asked if you have nurses or aides.
Boris: No, we do it ourselves. We want her to understand it's a private matter and this is how we handle it, by ourselves.
Reader Bettina was curious if you'd breastfed your kids.
Nicole: I breastfed Sophie for 14 months and Nicolas for 11 months.
When I got pregnant with Nicolas I went from just taking my prenatal with no extra folic acid, to four milligrams of folic acid a day with my prenatal. There's a very small percentage of women who are like me, who are healthy, did the right thing and still had a baby with spina bifida. That's because 1 milligram, our bodies don't absorb it. My body just treats it as not much, and lets it go. So I need more supplementation of it in order to get 1 milligram's worth of absorption. That's what my OB/GYN said by my second pregnancy.
Before we conclude, we'd love to know if you have any plans yet for Father's Day?
Nicole: Sophie and Nicolas have the best dad in the whole world! They're so lucky to have Boris as a dad, that I don't think Father's Day is long enough for us to figure out what to do. I think we're going to be in Germany. You proposed to me on Father's Day, Boris, remember? So Father's Day is really special to me.
— Danielle
Related Stories