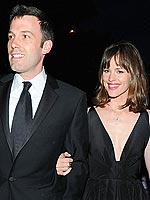 Clark Kent/Startraks
As a celebrity constantly in the public eye Jennifer Garner understands that the public have little sympathy for her list of complaints, especially when it comes to being photographed by the prying paparazzi. However, add her children into the mix and the mother of two refuses to succumb to the constant hounding. "There are almost as many video cameras as there are film cameras and the situation has shifted so that a huge amount of their focus is put on the children of celebrities," she states in an interview with the The Vancouver Sun.
"Because my husband and I are public figures, it is assumed that our daughters are public figures, and there's nothing to protect them."
With a mob of photographers stationed outside her home, Jennifer and her husband Ben Affleck have found their biggest obstacle to be one which occurs every morning: the preschool run. "When we go to preschool, there are so many paparazzi there that they are knocking kids on the heads with cameras and knocking them down," she explains. Unfortunately, according to Jennifer, the frenzy isn't satisfied with one picture, as they often call out to 3-year-old Violet Anne.
"There are huge numbers of them — and they're aggressive. They talk to her. They yell at her. They try to get her attention. They try to get her to react. It is a shame, shame, shame."
Despite her constant battle with tabloids, the 37-year-old admits her life as a wife, mother, and actress is pretty sweet. "I have an incredible family and love and support at home that helps me be able to do what I do, and my kids are healthy and happy," she says. In fact, life is so great for Jennifer that her recent cut-back on her movie roles is a decision she never regrets. "As long as there's still work out there for me," she says, she has no qualms about motherhood becoming her first priority.
"That's because in this industry, you can become such a careerist and so focused on what you're going to do next. You can lose the sense of … who you really are. For me, having a child, definitely reset that clock."
Jen and Ben are also parents to 4-month-old Seraphina Rose Elizabeth. Ghosts of Girlfriends Past is in theaters now.
Source: The Vancouver Sun
– Anya