Donald and Vanessa Trump Take on the Terrible Twos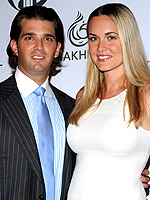 Bauer Griffin
The terrible twos have struck hard in the Trump household! With daughter Kai Madison turning 2 tomorrow, Donald Trump Jr. told OK! at the Operation Smile's 2009 event that he is often left wondering where his little girl has gone. "She was the sweetest child one day, and the next day, she was really pushing her boundaries," he reports. However, apart from Kai's "fast transition" into toddlerhood, the doting dad sheepishly admits he is not the one to ask when it comes to her major milestones. "I have no idea what these things are supposed to be," he says.
Standing by Donald's side, his wife Vanessa — who laughs that when it comes to Kai's "strong personality, [as] the apple doesn't fall far from the tree" — is quick to help her husband out!
"For now, she's stringing more than three words together, so that's a huge milestone."
As the new family of four — they welcomed son Donald 'Donnie' John III on February 18th — search for "status quo," Donald and Vanessa have been pleasantly surprised by Kai's desire to take care of her baby brother. With the mom-of-two breastfeeding, the help is extremely welcomed by all! "I'm breastfeeding, but sometimes I pump and put it in a bottle so she can feed," she shares. Despite embarrassing Donald — who says "that's way too much information" — Vanessa continues, "she loves it. She loves to sit there, she puts the pillow around, she copies me with the burp cloth."
That said, bouts of jealousy are inevitable. "There are definitely moments of jealousy as I think there would be," Donald explains. Calling his daughter "a tough little one herself," from the sound of things baby Donnie will soon be holding his own! Already weighing in at 15 pounds, the 11-week-old "is getting big fast. He's going to be a monster, so we'll see," shares the proud 31-year-old papa.
When it comes to more children, the couple are still undecided. As Vanessa pushes to welcome "two or three" more little additions, Donald quips that the two are still "in negotiations about that." After all, according to Donald, the pair struggle to spend alone time together as it is! "Who? What? That doesn't exist. We try to integrate as much stuff with the children by bringing them to dinners and making them a part of it," he says.
"I think frankly it's a way to really develop a child well, too."
Fortunately, with the pair trying to "do what we can once they go to sleep," they are proud to report that Donnie only wakes up once during the night. "I'm lucky. I have a good boy," shares Vanessa. Afraid of jinxing their luck, Donald adds, "Don't say that in public. It could be a mess."
Source: OK!
— Anya