Justin Chambers on the Importance of Building Confidence From Within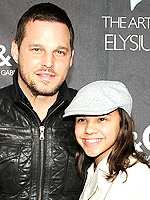 Jordan Strauss/WireImage
During the 'Hot Topics' segment of Wednesday's The View, talk turned to Bristol Palin's outspoken advocacy of abstinence. Guest Justin Chambers appeared later on in the show, and was asked by co-host Elisabeth Hasselbeck how he and wife Keisha plan to broach the topic with their four daughters — Isabella, 14, twins Maya and Kaila, 12, and Eva, 10.
Revealing that the couple have indeed had the "sex talk" with Isabella, Justin says "it's something you've got to do at home; Talk to your kids, and hope for the best." He elaborates,
"You just hope that you instill values with your kids. That you give them enough self worth that they don't need the approval of another to feel worthy."
The 38-year-old Grey's Anatomy star went on to note,
"You don't own them. They're on loan, and you try your best."
In addition to the girls, Justin and Keisha are parents to 7-year-old Jackson.
Source: The View
— Missy