Heidi Klum on Her Crafty Family: 'They're the Cutest!'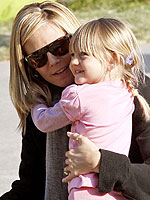 Ramey
With Mother's Day being celebrated today, Heidi Klum is stocking up on the tissue boxes! While she's spending the day with her brood — Leni, 5, Henry, 3 ½, and Johan, 2 — the supermodel laughs to Ocean Drive magazine that her day is never complete without shedding a few tears, albeit happy ones! "Usually they make something for me, and I have to cry because they're the cutest," the expectant mama reveals.
"I'm a tough woman, but when it comes to my kids, forget about it; I'm always in tears."
Homemade gifts aren't unusual in the Klum-Samuel household, with the threesome decorating small planter pots for last year's Mother's Day celebration. "That's how we are; we're a very arts-and-craftsy family," Heidi shares. Fortunately for the children, with dad Seal's schedule often filled with days spent on the road, they're provided the prime opportunity to break out the markers! "We include the kids in all the holidays and when Papa comes back from a concert we make signs that say welcome home," she reveals.
"He's always coming and going, and the kids understand it and know that when he comes back it will be something special."
Heidi and Seal expect their next child, a daughter, in October.
Source: Ocean Drive
— Anya