Celebrity Moms Design Baby Blankets to Benefit Save the Children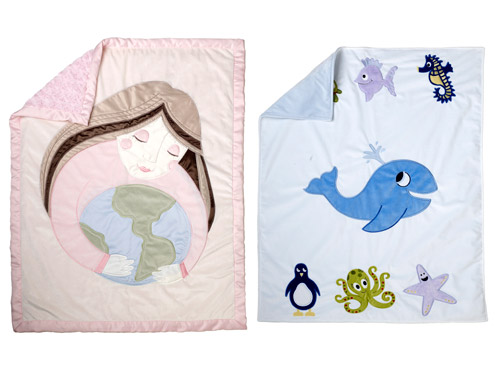 Designs by Kyra Sedgwick and Isla Fisher
Toys"R"Us has partnered with Save the Children on a new philanthropic campaign called Bundled in Hope to provide blankets to babies in need in impoverished areas in the United States. Kicking off the campaign, the  Toys"R"Us Children's Fund donated $250,000 to Save the Children's U.S. programs but they have also organized a great charity auction involving celebrity moms. One-of-a-kind baby blanket designs by Marcia Cross, Jamie Lee Curtis, Isla Fisher, Jennifer Garner, Jennie Garth, Melissa Joan Hart, Julianne Moore, Kyra Sedgwick, Niki Taylor and Kerri Walsh will be auctioned on eBay, with all proceeds benefiting the campaign, between Mother's Day and July 11.
Why baby blankets? "Research and experience have shown that a favorite blanket can be a soothing and comforting transitional object as children face changes early in life and can actually help them develop emotionally," said Judith Jerald, MSW and Early Childhood Advisor to Save the Children's U.S. Programs.  "Children born into poverty often face a higher level of stress and more anxiety-producing situations than those from more affluent families, making their trusted blanket all the more important."
In addition, Lorraine Bracco, Jamie Lee Curtis, Julianne Moore and Kerri Walsh have shared their baby blanket stories which you can read about on the site. Julianne shared,
"I love thin, flannel blankets because they remind me of the days that I brought my babies home from the hospital. The nurses show you how to wrap up a baby like a burrito, all tight and snuggly. And then you hold your baby package in your arms as you leave the hospital. Those were the two best days of my life — leaving the hospital with my baby packages. They are too big to wrap up now but I still have the blankets."
Even if you're not interested in bidding on a blanket, you can take part in this campaign by donating as little as a dollar at Toysrus.com/BundledinHope. Also, through July 11, if you have registered for baby gifts at Babies"R"Us, you can request donations for the campaign from friends and family who are shopping the registry.
— Danielle
Click for four more designs and to vote on your favorite!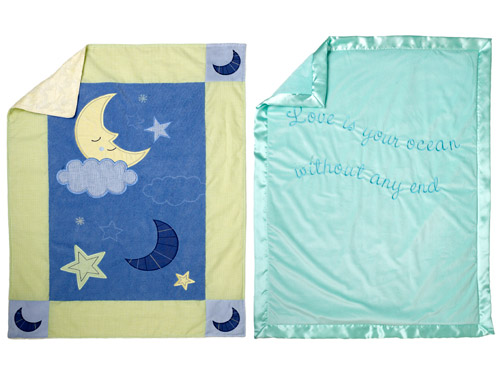 Melissa Joan Hart and Jamie Lee Curtis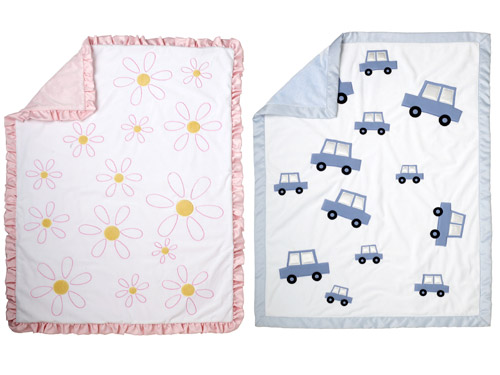 Julianne Moore (both)