Lee Ann Womack: Communication is Key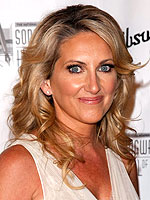 Jemal Countess/WireImage
Singing comes naturally to Lee Ann Womack — but natural was the last way she initially felt as a parent! As mom to Aubrie Lee, 18, and Anna Lise, 10, Lee Ann felt so unprepared that she now thinks parenting classes should be "mandatory in school today."
"A lot of young people don't even know (or consider) the very basics of child rearing and home keeping anymore," she explains. "I can remember my mom handing me a toilet bowl brush and saying, 'Today you're going to learn to clean a toilet.' The same with cooking dinner, hemming a garment, doing laundry, taking care of pets … I just don't know if parents are as engaged now as they were when I was a kid."
Considering that "a shame," the country singer goes on to clarify that it's "not so much that people don't spend time learning to clean a toilet, but that young parents don't know what is a decent time to put their child to bed!"
As her daughters have gotten older, Lee Ann has learned "the importance of communicating with your children" and believe it is the one of the biggest things a parent can do for their child.
"Listen to what they have to say as if they are teaching you something, because they will! I sometimes play a trick on myself if I'm feeling a little disconnected at that moment: I pretend that I'm talking to a girlfriend of mine. It's not long before my daughter has me either riveted or dying laughing at something."
Lee Ann, 42, is constantly trying to find a balance between being a parent and a celebrity. "Maintaining celebrity is something that takes a lot of time. Too much time," she says. She knows that "hands on parenting should take most of your time, with a little left over for what Mom/Dad wants to do" but notes that "the hard part is knowing that you have so many people on your payroll that are depending on you to maintain your status as a recording artist/star and trying to keep that up too. Expectations are high coming from both sides. Like anything, I do believe you get better at it the more you do it."
Click below to read about why Lee Ann believes honesty is the best policy and that extracurricular activities are good for every child.
Lee Ann's successful career has also proved a challenge because there is no such thing as skeletons in the closet! "You can't hide your 'teenage or college' years the same way the rest of us can!," she laughs.
"I'm not so sure hiding things from your kids is the only way to handle being a parent and a real person. I think being honest with them works the best for us. I try to just tell them when I've made mistakes and how those mistakes affected me. There is no better teacher than life."
Both of Lee Ann's daughter are involved in extracurricular activities which is something she believes is good for every child. "There seems to be a lot of controversy among parents regarding how much is too much," she explains. "I think it's very important for kids to not have too much time on their hands. I feel sorry for kids who are not involved in any extra curricular activities." Lee Ann wants parents to remember the number of options that are out there. "Every kid doesn't have to be a football player or a cheerleader. There's dance, music lessons, gardening, cooking, creative writing, photography, and on and on. Help them choose something and then help them stick with it."
While Aubrie and Anna are "good dancers and they both show an interest in music," Lee Ann is most proud of her daughters for "their ability to empathize with others. I think they got it from Frank [Liddell, Lee Ann's husband]!"
Aubrie is Lee Ann's daughter with ex-husband Jason Sellers; Anna is her daughter with Frank, whom she married in November 1999.
Source: MomDot
— Angela