Lars Ulrich Uses Guitar Hero to His Advantage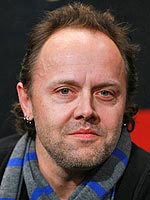 Neilson Barnard/Getty
Leverage is everything when you're a parent, and Lars Ulrich has some unique leverage of his own in the form of Guitar Hero. His music as a member of the rock band Metallica has reached a whole new audience in recent years as a result of the game, and his two children Layne, 8, and Myles, 10 ½, are now looking at dad a bit differently as a result. "It's very cool," he admits to MSNBC's Rachel Maddow.
"In the age of spending a lot of time forcing them to finish their vegetables and do their home work and get to school on time, [that] dad actually has his own video game certainly helps. And will continue to help into adolescence!"
Lars, 45, added that "it's been a lot of fun" to find a new musical outlet after a near 30-year career. Layne and Myles are his children with ex-wife Skylar Satenstein; He is also dad to Bryce Thadeus, 23 months, with longtime girlfriend Connie Nielsen.
Metallica's ninth album Death Magnetic is in stores now.
Source: The Rachel Maddow Show
— Missy