Ziggy Marley is Unfazed By Fatherhood: 'I'm Not the Frazzled One'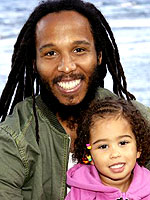 Johnny Black
Let's get together and feel all right! Much like many of his dad Bob Marley's carefree reggae tunes, Ziggy Marley has taken a similar relaxed attitude toward life — so much so, that the father of five admits to Cookie that stress is not a part of parenthood for him. "My wife [Orly] is the frazzled one; I'm not the frazzled one," he says. When Ziggy feels that his child is getting the best of him, he simply takes his time out to re-group, "but it only lasts for a second."
That said, despite being the self-proclaimed "loose one," the 40-year-old makes it clear that he will also step up when it comes to disciplining his brood. "I'm the good cop and the bad cop," he explains, adding that the couple have made the decision to share the same parenting responsibilities. "I'm versatile," Ziggy notes. One area where the musician tries to stay stern? Food! While Ziggy is a vegetarian, he admits that his kids often ask for some protein in the form of meat, something he is particularly "picky" about. Occasionally though, he'll oblige. "I'm kind of cool — I let them eat some meat," he reveals. "It's all good."
While the children may get their way when it comes to eating meat, Ziggy is quick to draw the line at raising disrespectful kids. Citing the most important piece of advice he received from his father as "listen to your daddy," he is determined to teach the same principles to his own fivesome.
"It's very important that we instill some respect for the parents. In America especially, the kids are unruly, screaming at mommy and daddy, running the show. Let kids know we guide them. When kids question me, 'Why?' [I tell them that] it's the rule because I say so."
No worries, however — Ziggy reveals that the family have plenty of fun in the great outdoors. Limiting their children's TV intake, the couple instead busy their kids with martial arts lessons and park playdates. "When it's warm out, we find scrap pieces of wood and build things," he says. "It's kind of like an adventure outside. We have fun with whatever."
Clearly elated with fatherhood — Ziggy wishes he could "keep on having" children — the proud papa delights in watching his kids develop their own personalities from a young age. "Even though they're children, they have their identities," he notes. "They have good hearts and they're loving," he adds, and with the ability to nurture a family, Ziggy admits nothing is missing from his fulfilling life.
"Children are not a burden. 'Oh, I wish I had done this that I can't do now.' I don't think like that. Children are wonderful and they add to my whole life. I don't think about what I could have done or think backwards or think about what-ifs. I move ahead, and there isn't anything I wish I [had or] hadn't done."
Ziggy is dad to Daniel, 19, Justice, 17, Zuri, 13, Judah Victoria, 4, and Gideon Robert Nesta, 2. His first children's reggae album, Family Time, is available now.
Source: Cookie
— Anya