Jill Hennessy Recommends Short Maternity Leave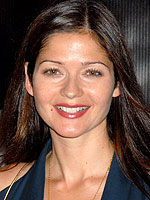 Johns PkI/Splash News Online
Making the film Lymelife was something Jill Hennessy considers unavoidable, even if the timing left much to be desired. Although her second son — 17-month-old Gianni — was just 11 weeks old at the time, Jill says of accepting the part: "I couldn't not do it."
"I recognized this character. Everyone feels like, if I were a better wife or woman, my husband would love me, my kids would love me more. She comes full circle and makes a very bold choice."
The logistics were tough, however. Jill pumped her breastmilk in the nurses office of a local school, for the film's budget didn't allow for trailers, and cast members like Alec Baldwin pitched in with Gianni. "Alec would … always make him laugh, which drove me crazy," Jill jokes. "How does he make everyone laugh, even a three month-old baby? It kind of pissed me off." While some women yearn for an extended maternity leave, Jill feels that her speedy return to the set was best for all involved.
"I think it helped me get through that time, in retrospect. It got me outside, stopped me from focusing on the sheer lack of sleep and the daunting situation of having two kids. It forced me to delegate. I highly recommend it."
In addition to Gianni, Jill and husband Paolo Mastropietro are parents to Marco, 5 ½. Lymelife is currently in limited release.
Source: CBC.ca