Jason and Naomi Lowde-Priestley Expecting a Son?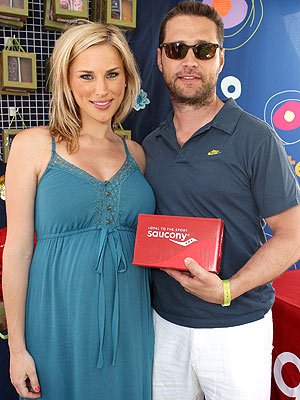 Chris Weeks/WireImage
Jason Priestley is seeing blue! The former 90210 star and his wife Naomi Lowde-Priestley shopped for blue baby items at the Silver Spoon Dog & Baby Buffet in Los Angeles on May 8th, including a pair of Stride Rite Pullet boy booties in navy.
Although Jason recently said they'd be staying private with the details, it was his wife that spilled the beans!
"[Naomi] confirmed they were having a boy," says a source of the couple, who are parents to daughter Ava Veronica, 22 months. "They are so excited. They said this is probably it for them because now they'll have one of each!"
The two also picked out Mabel's Labels for their daughter and mingled with other celebrity parents including actress Ali Landry, Dancing With the Stars co-host Samantha Harris and former Blossom star Mayim Bialik.
The event will continue on Saturday, when the five-member children's entertainment group The Jumpitz will perform.
Jason, 39, and Naomi, 33, announced they were expecting their second child last month. Still no word on a due date, although it seems to be a summer baby! The two wed in 2005 on Paradise Island in the Bahamas.
Source: PEOPLE