Elisabeth Hasselbeck on Her Rough and Tumble Son
When it comes to the differences between boys and girls, some stereotypes do hold true. Elisabeth Hasselbeck revealed during a Wednesday visit to The Rachael Ray Show that her 18-month-old son Taylor Thomas, is definitely "wired differently" than his 4-year-old big sister Grace Elisabeth. "I remember Grace crawling up on the sofa and falling off and then getting up and brushing [herself] off and looking at the sofa like, 'How dare you let me fall off of you?,'" Elisabeth explained. "My son Taylor will get up on the sofa, climb up and chuck himself off, face plant into the rug, rug burn all over, and get up and do it ten more times.
"He's so different…He's got a little personality, he scares me a little bit."
Elisabeth's third child — due in August — is a delivery surprise, and Grace has no preference of one over the other. "[She is] thrilled about another brother or sister because it's another little tiny person in the house that she can control, I think," Elisabeth jokes. From the sound of things, Grace is used to being the boss! On one recent occasion, Elisabeth was tucking Grace into bed when she remembered one last thing she wanted to tell her daughter. "She looked over and she said 'Siggggh Mom, can this wait until tomorrow because I'm exhausted,'" Elisabeth recalled.
"Nuts right, I mean leave it to a four year old to just put you in your place all day long."
As for Elisabeth's The View co-hosts, each has babysitting appeal for the soon-to-be mom-of-three. With Whoopi Goldberg, the kids "would have a rip roaring time," while Joy Behar offers something else entirely. "For whatever reason Joy has this bosom that babies love," Elisabeth joked. " Sherri Shephard "is like Dora [the Explorer], but more," Elisabeth adds, while boss Barbara Walters is "a great burper."
Grace and Taylor are Elisabeth's children with husband Tim Hasselbeck.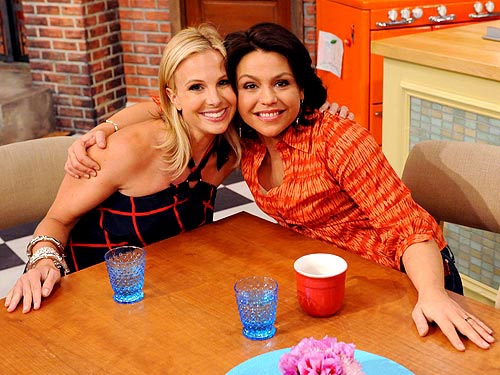 David M. Russell
Source: The Rachael Ray Show
— Missy