CBB Celebrates Mother's Day!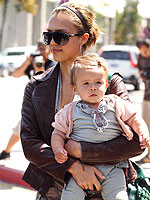 WENN
Mother's Day is just days away — May 10th! — and to celebrate, we've put together some photos and stories that honor selfless moms — just like you!
Take a look at celebrities celebrating their first Mother's Day, check out some pretty jewelry for moms, tell us how your mother influenced your life and find out which celebrity mom you told us you'd love to have brunch with. Plus: Read what the stars have to say about the advice their mothers gave to them! You can see it all here.
To all of our moms (and moms-to-be) out there: We wish you the happiest of Mother's Days! Thank you for all that you do.