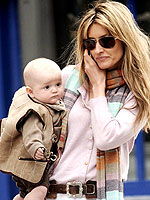 INF
When the time came to deliver son Rex Coltrane, 6 ½ months, Natascha McElhone did so alone – as she had been the last five months of her pregnancy. "It just felt right somehow," the 37-year-old actress, who lost husband Martin Kelly to a heart attack in May 2008, tells Hello!. "If Martin couldn't be there, I couldn't replace him with someone, as that would have felt very strange."
"I wanted to be on my own because that was the way it was going to be. I was going to be my baby's only parent so I may as well get used to it."
The birth itself was "incredibly painful and challenging," Natascha admits, but as soon as she held baby boy those feelings melted away. "My first thoughts were, 'Phew, we made it!" she reveals. "Then there was just this incredible endorphin rush, this tremendous joy." Her older sons — Theo, 8 ½, and Otis, 5 ½ — were excited to meet their new baby brother the following morning, but expectation temporarily clashed with result! "They raced in and ran towards him — but of course, he wasn't what they expected at all," Natascha says. "They wanted someone robust, who they could play with and instead they got this floppy, mewling gerbil. They were most unimpressed. It took a while!"
Fortunately, the boys have since warmed to Rex – or "little Buddha," as Natascha calls him – in a big way, and she invokes Martin's name often to keep the boys' memories of their dad alive.
"I thank God I had two babies with Martin before so I know exactly what his reaction to Rex would be. I imagine him kissing the back of Rex's neck and doing all the things he loved doing with the others. I say to the boys, 'Daddy used to do this with you guys.' They'll say, 'Lets do it to Rexy!' And we all pile in and give him hugs."
Click below to read about how Natascha arrived at Rex's name.
Rex's middle name is a nod to Martin's love of jazz musician John Coltrane. She jokes that had Theo or Otis been allowed to name their new brother, he "would have been called 'Rocker' or 'Slide Guitar.'" Fortunately Theo was intently focused on the then-ongoing presidential election in the United States. "[He] was very insistent that we should have a democratic vote, so I was able to veto those," she says. "When I told them that Rex meant 'King,' they thought that was appropriate."
Natascha says that she is ever mindful that "the loss of one's father is very different to the loss of one's husband." To that end, she feels she needs to "have to have some humility around that."
"I hope that I don't force them or impose on them and that I haven't deified their father to the point where he becomes this inaccessible God-like figure in their lives that they can never live up to. I'm worried about all of these things."
While the thought of raising three sons alone is sometimes daunting, Natascha says she has help in Theo and Otis, both of whom do a good job of keeping Rex "amused."
"At home, his dear little head is permanently going from side to side watching the other two, like he's at a tennis match…They just adore their little brother."
Source: Hello!, May 12 issue
– Missy