Marissa and Zev Grin at Game Day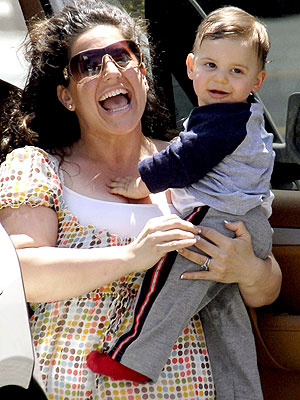 Adrian Varnedoe/Pacific Coast News
Broadway babe and Dancing With the Stars alum Marissa Jaret Winokur looked thrilled to arrive at The Lollipop Theater Network & Hasbro's 1st annual Game Day Sunday in Burbank, Calif.
Toting son Zev Isaac, 9 ½ months, Marissa and husband Judah Miller (not pictured) posed on the red carpet before heading inside.
Marissa, 36, recently chatted with CBB about her son, giving us an update and sharing some personal photos. Check it out here!
CBB note: Marissa wants you to know that the wet spot is just water! "EVERYONE THINKS ZEV WET HIS PANTS!!! My husband was in the back of the car with Zev and doesn't know how to open the sippy cup without spilling it," she explains. "His front was wet too! But it was 90 degrees out and I actually thought it was better to leave the wet clothes on. It totally looks like he wet himself and that does happen, this however was Judah's fault not Zev's! Haha."