Gabe Gross Welcomes Daughter Allie Lee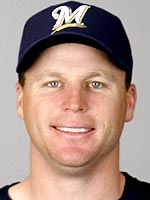 Getty
It's a girl for Tampa Bay Ray Gabe Gross and wife Kelly! The 29-year-old outfielder welcomed daughter Allie Lee Gross at 11:39 a.m. on Sunday, May 3. Baby girl weighed in at 7 lbs., 5 oz., according to Tampa Bay Online.
In announcing Kelly's pregnancy in October, Gabe noted that his luck had turned around after being traded from the Milwaukee Brewers to the talented Rays, who went on to win the American League pennant in 2008. Gabe rejoined his team Tuesday after traveling to Alabama for the birth, and said that leaving his newborn daughter and wife behind was "very hard."
"You hear all the time about guys, so-and-so is not with the team, having their first or second baby. I don't think you think about the moment you have to leave and know that you're not going to see them for a while."
Allie is the first child for the couple.
Source: Tampa Bay Online
Thanks to CBB reader Victoria.
— Missy