Elizabeth Mitchell 'Cried at the Drop of a Hat' While Pregnant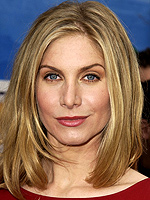 Steve Granitz/WireImage
Before joining the cast of Lost in its third season Elizabeth Mitchell was a fan of the hit ABC show — but she admitted during a recent appearance on The Bonnie Hunt Show that she skipped season two. Pregnant with son Christopher 'C.J.' Joseph, 3 ½, at the time, Elizabeth said that she couldn't bear to watch anything violent during her highly-hormonal state. "I was too emotional," the 39-year-old actress explained. "I cried at the drop of a hat."
"It's Hallmark commercials, it's anything you could possibly imagine. Not even Hallmark. It's a coffee commercial, and they pick up [the cup of coffee] and I'd go [crying] 'Ooooh, it's coffee!'"
Her best friend had an opposite reaction to pregnancy, however. "[She was] into horror movies," Elizabeth recalled with a laugh. "Slasher films…that's all she'd watch with me; She'd say, 'Can we go see Friday the 13th, Part 8?" She adds,
"But me? No violence. Disney…Singing butterflies. That's what I wanted."
C.J. is Elizabeth's child with husband Chris Soldevilla.
Source: The Bonnie Hunt Show
— Missy