Diego Luna, Gael García Bernal on Their Baby Boys: We Planned It!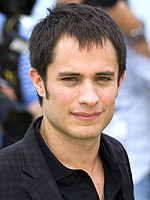 Nick Sadler/Startraks
While most childhood friends envision their future families as best buddies, life for actors Diego Luna and Gael García Bernal is none other than history repeating itself! During an appearance on Good Morning America to promote their new movie Rudo y Cursi, Diego explains that the two have been friends since the moment they were born. "He was one of the first images that I saw and it was quite scary!" he says.
With Diego welcoming his son Jerónimo last August only to have Gael welcome his baby boy Lázaro five months later, the two can't help but joke that it was less of a coincidence than people may think! "We did it together at the same time — fortunately not together," laughs Gael. As Gael explains that he "took longer" to make a baby, Diego quips that the two made sure their actions were in sync!
"We were [on] the phone like, 'Hey, are you ready? I am!' … You know, control is not that easy, so [my son] is a little bit older."
The obvious difference between the proud papas and their sons would be that Lázaro is a few months older than baby Jerónimo, much to his father's delight! Calling their families a "very spontaneous" decision, Gael admits that "the tables have inverted because now his baby is older. He actually was the one who went to my son and [stuck] his finger up his mouth." The 30-year-old's observation led best friend Diego, 29, to jokingly add,
"Yeah, revenge is sweet. I have pictures of my kid just abusing Lázaro."
Jerónimo is Diego's son with actress Camila Sodi; Lázaro is Gael's son with actress Dolores Fonzi. Diego and Gael's new movie Rudo y Cursi is in select theaters on May 8th.
Source: Good Morning America
— Anya