Tommy Hilfiger and Dee Ocleppo: It's a Boy!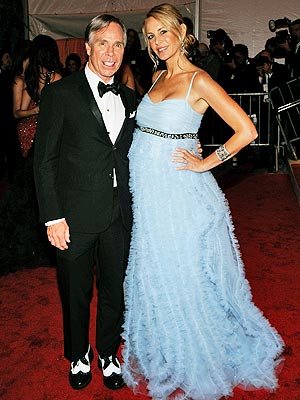 Larry Busacca/Getty
Dressing in formal attire while pregnant is "very complicated," Dee Ocleppo lamented while walking the red carpet at the annual Costume Institute of the Metropolitan Museum gala in New York City Monday night.
The process is made easier, of course, when one is married to a world-famous fashion designer! Dee's husband Tommy Hilfiger helped create her custom frock.
"This is a collaboration; we designed it," he said, before quipping, "It's called makeshift… make your own at the last minute!" The color was no coincidence. Dee revealed,
"I wore the baby blue because it's a boy. So I wanted to wear baby blue. We obviously have to make it an empire dress, [because] it's very limiting, what you can wear when pregnant."
Due the first week of August, Dee said she is "feeling great" and that the couple are "very excited" to welcome their first child together, and seventh child overall.
Dad-to-be momentarily slipped up by admitting "it's not a big deal anymore," but quickly clarified that it will of course be a big deal when baby boy arrives. "We've learned all the tricks," Tommy said, including "never over-react to anything." He adds,
"We're excited. It's going to give us a new lease on life."
As for a name, Tommy, 58, says that the couple are "in the midst" of the "negotiation process." Dee would only reveal that there are "a few" she's been thinking of, and they are leaning towards a moniker with "international" origins.
The name game isn't the only heated debate in their home, however! When Dee deemed their baby-boy-on-the-way her "last hurrah," promising "no more" kids, Tommy noted that "eight is a lucky number." "Oh God," Dee replied, prompting Tommy to quip "we're negotiating."
Tommy has Ally, 24, Rich, 18, Elizabeth, 15, and Kathleen, 13, with ex-wife Susie; Dee has two sons from her previous marriage to Gianni Ocleppo.
— Missy with reporting by Charlotte Triggs and Jeffrey Slonim