Steal That Style: Tie-Dye Trendsetters
Bell bottom pants. Bare feet. Long hair. VW buses. Sound familiar? While some of those fads have stayed back in the 1960s, lately we have seen the much-celebrated tie-dye trend around every corner! Although the art of tie-dying can be dated back to 500 A.D., the bright colors have since became a signature of the hippie days. However, with celebrities taking a liking to the trend, you don't have to pull out the peace beads to rock the psychedelic designs!
From what we have seen, the tie dye trend knows no boundaries. While we spotted expectant mama Jennifer Meyer Maguire out sporting her Gypsy05's Organic Maxi Dress and Carnie Wilson showing off her baby belly with a blue tie dye maxi dress, the colorful swirls don't end with clothes: check out Nicole Richie's tie-dye tote that has become a staple for the new mama-to-be!
We have found an eclectic mix of tie dye products for you and your little hippies — from funky sandals, maternity tunics, baby blankets and more — almost anything under the sun can be found in the colorful design. Baby sling lovers? We found a tie-dye sling for you! Not interested in the designs we listed? Make your own — we have even included a kid-friendly kit perfect for you and your family!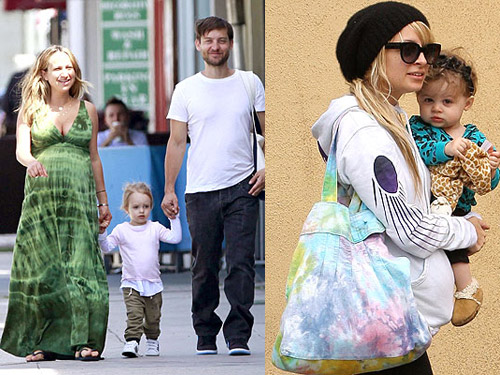 Anthony/Pacific Coast News, RIV/Fame
Steal That Style and become a tie dye trendsetter with the products below!
Breaking Bank: We're loving the adorable Kool Kicks Rainbow Tie Dye Sandals for both boys and girls! While a bit pricey, if you search around, you may find other site that offer great deals on these sandals (try Kettle of Fish Clothing, they're on sale now for $39). They are certain to add a big flair to any spring outfit.
Favorites: For the little toes, try Kool Kicks Rainbow Tie Dye Sandals ($62). Expecting? Check out Stones Tie Dye Maternity Tube Top ($45) and Baby K'tan Baby Carrier ($66).
Not Pinching Pennies: No, not designated maternity wear, but might as well be! With their roomy empire waists that give those burgeoning bellies some air, we are loving Forever 21's Tie Dye SS Dress. If you love the look, but want to make it a bit more colorful, try spending an afternoon with the kids making your own set of tie dye gear!
Favorites: Give that belly some air with Forever 21's Tie Dye SS Dress ($23)! Dress up your little girl in Little Angel Club Tie Dye Tunic ($28) or make your own creations with Jacquard's Tie Dye Kit ($20).
Bargain Buying: We didn't have to look any further than Walmart to find a cute tote that fit perfectly with our tie dye motif. At only $5, the Love canvas totes are perfect for a day around town or a family trip to the beach.
Favorites: To tote around town, we love No Boundaries Love Tie Dye Canvas Tote ($5); Show off your baby belly with Sexy Belly Maternity's Tank Maternity Brown & Pink Tie Dye Print (on sale for $16); And wrap your little one in a Peace-Love-Baby's Receiving Blanket ($13).
— Anya