Natalia Vodianova Credits Motherhood for Perspective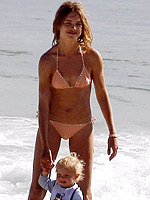 Flynet
There was a time when 7-year-old Lucas Alexander Portman used to correct his mom's English, but the tables have turned since Natalia Vodianova began taking her kids back to her native Russia.
The family of five — which also includes children Neva, 3, and Viktor, 19 months — makes the monthly voyage in support of Natalia's charity the Naked Heart Foundation, which builds playgrounds in underprivileged areas. Her desire to give back is rooted in motherhood; Although she made her name as a supermodel, the 27-year-old says that having children put her career in its proper context.
"Now that I am older, and a mother, I understand that modeling is my job. I don't do it because it is superfun or because I get to travel or because it brings fame. It is what I do for a living. And that puts everything in the right place."
Lucas, Neva and Viktor are Natalia's children with husband of six years, Justin Trevor Berkeley Portman.
Source: Vogue, May issue
— Missy