Matthew Fox 'Looking Forward to Moving On'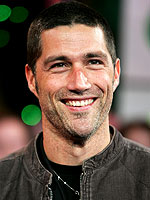 Scott Gries/Getty
All good things must come to an end, and for Matthew Fox island life is one of them. As he anticipates his upcoming move from Hawaii to Oregon, Matthew says that "it's been a great experience" but he, wife Margherita and children Kyle Allison, 12, and Byron, 7 ½, "are really looking forward to moving on." Before they do, Matthew was happy to look back during a recent appearance on The Late Show with David Letterman.
"For us, the family, leaving Los Angeles, and I've got two young children…Them having a chance to spend all that time in Hawaii, and spend that much time in the water, and learning how to surf…All that's been great…Especially for the little guy, it's been a big deal. We moved over there when he was 2 or 3."
In Oregon the kids will get to know some of the "wide open spaces" Matthew, 42, enjoyed growing up in Wyoming, where his father still owns a ranch. It's a place Kyle and Byron enjoy visiting. "They've spent quite a bit of time [there], and both of them are really into getting on a horse," he reveals. "Particularly [Kyle]; She's totally in love with it." When host David Letterman pointed out how lucky Matthew's children are to be exposed to such diverse surroundings, he agreed. "We've been very fortunate," he said.