Kelly Rutherford Reveals Nursery Plans: Stylish But Simple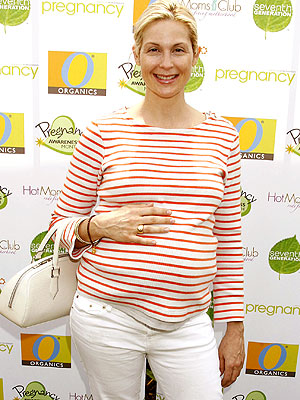 Jeffrey Mayer/WireImage
With just a month to go until she delivers her second child — a baby girl whose name is being kept under wraps until her debut — Kelly Rutherford is placing the finishing touches on her daughter's nursery.
While the new baby will come home to a room filled with a changing table, crib, and other baby essentials, the expectant mama, who is "not big" on ostentatious design, tells CBB/PEOPLE at the Motherhood Begins Now Lifestyle Event that "the room is decorated super cute, but … simple."
With the worries of a nursery checked off her list, Kelly — who once feared she was having twins after getting "big really fast" — has instead been focusing her time getting her 2 ½-year-old son Hermés Gustaf Daniel used to the idea of big brotherhood.
One lesson that seems to have gone over well for the toddler? The mystery of breast pumps! "The other day we were at The Pump Station [and] he wanted to figure out how the breast pump was working, of course the mechanics of it, [and I said], 'This is for milk,' and then I try to explain that you can help me give the bottle and Mommy can pump and it's hysterical," Kelly laughs.
"I mean the conversations you have with your two-and-a-half-year-old is kind of funny. I'm like, 'Where is Saturday Night Live now?'"
Since becoming a mom, the Gossip Girl actress is an open book of information! With her favorite products including Aquaphor — a cream that does it all from dealing with "diaper rash or any kind of" irritated skin to keeping "your skin nice" — and Seventh Generation diapers — a product she "could not live without" — Kelly has even acquired a few tricks to deal with the struggles of pregnancy. Suffering from leg cramps? Eat a few bananas and drink some coconut milk, says Kelly! "I buy the whole coconut at Whole Foods and put a straw in it and just drink the milk," she shares. "I have one almost every night before I go to bed."
Despite her new found knowledge of everything baby, Kelly admits that her greatest piece of advice came from none other than her own mother. "My mom was very open with us and treated us when we were kids with so much respect for what we had to say and listened to us," she says. "I think especially when they are little to take the time … to listen and explain I think they don't go through so many dramas in the terrible twos or the teens." Believing that the majority of outbursts from children are a result of pent-up frustration from being denied the opportunity to express their independence, Kelly has made it her priority to be present for her son.
"I didn't just let my son cry. If he was in the stroller and didn't want to be in the stroller, I carried him. If he cried, I picked him up. I didn't do that whole let him cry thing."
Hermés and baby-on-the-way are Kelly's kids with estranged husband Daniel Giersch.
— Anya with reporting by Michelle Ward