Justin Chambers On His Rock Stars: 'No Idea' Where Talent Came From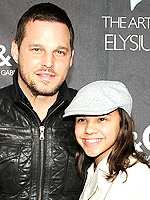 Jordan Strauss/WireImage
Actor Justin Chambers may soon be sharing the spotlight! Appearing on Good Morning America to promote the 100th episode of his hit show Grey's Anatomy, the doting dad reveals that his four oldest children — Isabella, 14, twins Maya and Kaila, 12, and Eva, 10  — have become quite the little rock stars. With the foursome forming the girl band Nyla, the girls do it all: sing and play their own instruments! "They've been playing since they were quite young and they're into music," Justin says.
"I can't tell you where [their talent] came from. They just have it and they love it and it gives them something to do. It's good for them, they work together as a team and they're really into it."
In addition to the girls, Justin is also dad to 7-year-old Jackson and with five kids, admits that things can get quite chaotic. Fortunately, while the family has plenty of help, Justin and his wife Keisha rely heavily on the kids taking some responsibility. "They're self-sufficient and they're in school and studies," he explains.
That said, a clearly smitten Justin gives all the credit to Keisha, calling her "probably one of the greatest mothers I have ever met" and hinting heavily — but keeps his lips sealed — that she will reap the benefits of motherhood this Sunday!
Source: Good Morning America
— Anya