Heidi Klum Says Fourth Pregnancy Will Be Her Last
In a Monday visit to The Ellen DeGeneres Show, Heidi Klum dished on how her fourth child with husband Seal — due in the fall — came to be. "We weren't planning, but we also weren't not planning either," she explains. "We were kind of leaving it open."
"We were always looking around the table and always thought one more would be nice. We kind of took it one baby at a time and every time we thought, 'Yeah, one more and that's it!'"
Unlike with her previous pregnancies — Heidi is already mom to daughter Leni, 5, and sons Henry Günther, 3 ½, and Johan Riley, 2 — that feeling is gone. "Now is the first time I feel, this is it," Heidi adds. Host Ellen DeGeneres then performed several wives tales to determine whether baby-on-the-way is a boy or a girl, and all signs point to the latter! While the couple don't yet know what they're having, Heidi revealed that an ultrasound later this month will give them the answers they seek; For now, at least, it seems as though Heidi suspects that Ellen's predictions are correct.
"I have much more muffin top than I had before, and before that. I don't know. When I was pregnant with Leni I was bigger all around, and had more muffin top. [Or] maybe I've been at the pie shop too many times!"
When she's not indulging her sweet tooth, Heidi says she's suffering from "pregnancy brain freeze," a phenomenon that expectant moms know all too well! "I don't know what it is, I always forget things," she admits. "It's always like, the words…where are they? I know they were there before, where are they now? Like, where am I again?"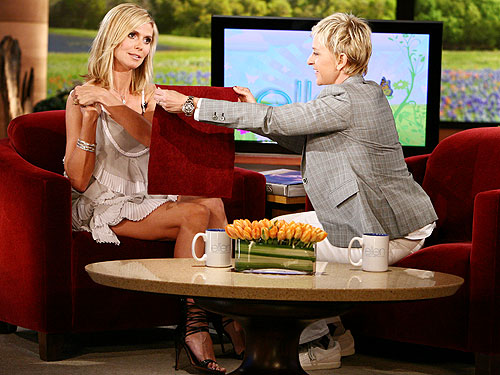 Michael Rozman/Warner Bros.
Source: The Ellen DeGeneres Show
— Missy