Brad Paisley Explains Choice of 'Jasper' for Newborn Son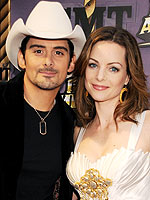 Jeff Kravitz/FilmMagic
During a May 2nd performance on A Prairie Home Companion with Garrison Keillor, country singer Brad Paisley revealed that it was wife Kimberly Williams-Paisley who was responsible for naming the couple's second son Jasper Warren, 2 ½-weeks.
"My wife had a dream that we had a little boy and named him Jasper…so we named him Jasper. That's the only reason."
Brad performed several songs off an upcoming album, and it's clear that Jasper and his 2-year-old big brother William 'Huck' Huckleberry have had a profound influence on their dad's music. On the track 'Anything Like Me,' Brad opens up about learning during an ultrasound that another son was on the way. "I started wondering who he was gonna be, I thought 'Heaven help us if he's anything like me,'" he sang.
What's more, Jasper's middle name is a nod to Brad's grandfather Warren Jarvis — which is fitting, for Warren gave Brad his first guitar. "He said, if anything ever goes wrong in your life, just pick this up and it will all go away," Brad recalled. "He was right, too…It's really something, what that can do for you." When host Garrison Keillor suggested that Brad purchase a guitar for Jasper for the same reason, he agreed. "Yeah, he's gonna need it," Brad said.
Source: A Prairie Home Companion