Michelle Pfeiffer's Adoption Separated 'The Boys From The Men'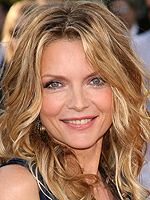 Jason Merritt/FilmMagic
When Michelle Pfeiffer found herself divorced and newly single at 35, the thought of not having children never entered her mind. With her heart set on having a family, she knew she "wasn't going to not have children because I wasn't married," she tells Telegraph. Turning to adoption, Michelle began the proceedings to adopt a baby girl and, two months later, was introduced to her future husband, David E. Kelley.
"I was nervous about telling him, but I thought, this will separate the boys from the men."
Taking the news in stride, David quickly embraced the idea of a future family with Michelle and her new baby girl, Claudia Rose, now 15. Fortunately, life settled down to an easy pace for the threesome — who later welcomed son John Henry, now 14 — as the actress admits things couldn't have worked out any better for all involved. "I think it actually made me love [David] more," she says of the adoption.
Life as a mother of two has certainly come with its fair share of lessons, says Michelle. "I think children teach you [to not be controlling]," she admits. "Because you can't control them — the more you try, the more you make matters worse." However, as much as Michelle was willing to accept the changes life often throws out, the constant unexpected run-ins with pursuing paparazzi forced the actress to draw the line; The family of four left Los Angeles and headed for the hills: a ranch on the northern end of the state.
Where there was once a life filled with busy streets and endless shops, Michelle now finds herself living one in which she prefers to stay put, "like a hermit." However, for now, her world is far from that of a hermit … and she's not complaining!
"Being a mother has helped me get out in the world and make friends I would never have made; it's enriched my life in so many ways, other than just having these two wonderful creatures at home to entertain me. It's opened my world, in a way."
Source: Telegraph
— Anya