Jennifer Garner on Violet's Honey Fun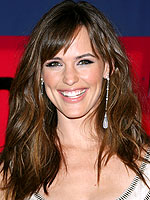 Jen Lowery/Startraks
While making the rounds in support of her new film Ghosts of Girlfriends Past, Jennifer Garner last week showed off some seriously skinned knees which she suffered after falling during a recent jog. She tells Live with Regis and Kelly that the day of the accident was filled with 'oh no' moments, however. As husband Ben Affleck tended to Jennifer's injuries — applying band-aids and neosporin — it dawned on the couple that their 3-year-old daughter Violet Anne had gone missing. "We said, 'Where's Violet? Has anyone seen her? What happened?'" Jennifer recalled.
"You know when a 3-year-old has been left alone for a while? We walked into the next room — we're in a rented house, by the way. Sorry people that we're renting the house from, I'm about to tell you something you're not going to like. She had a jar of honey, upside down, empty. She was going like this [makes a swimming motion]."
Although Violet had indeed dumped honey all over the carpet, the furniture and even Jennifer's computer, the 37-year-old actress says she couldn't be angry with her daughter. "She was fascinated by it," Jennifer explained. "You can't even say anything about it." In addition to Violet, Jennifer and Ben are parents to Seraphina Rose Elizabeth, 4 months.
Source: Live with Regis and Kelly
— Missy