Hank Azaria Has 'Regal' Plans for His Baby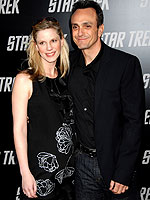 Janet Gough/Celebrity Photo
It's going to be a boy for The Simpsons star Hank Azaria and girlfriend Katie Wright — and if mom's cravings are any indication, junior will love a good burger.
Hank, who announced in February that they are expecting, told PEOPLE that Katie has been through the gamut of all the side effects of impending motherhood. "She has everything: cravings, nausea – everything." So what's her number one craving? "In-N-Out Burger!" she said at the Los Angeles premiere of Star Trek.
"They should really give us a year's worth," added Hank, 45. "We are the greatest [customers]. I literally bought a hat because I've delivered so much In-N-Out Burger in the last six months."
Reminded that In-N-Out rents mobile cookout trailers for curbside service, Hank said that could be the best solution to get those Double Doubles. "I might end up just buying one and driving one," he joked. "That would save a lot of time."
Hank already has some grand plans about being a first-time dad to the new arrival, who is due this summer. "My fantasy is to mostly go all regal and add to my throne with someone to carry on the name," he said. "I'm sure it will be nothing like that, but that's what I'm pretending."
Hank appears in the summer sequel A Night at the Museum 2 and provides the voices of Simpsons mainstays Apu, Chief Wiggum, Professor Frink, the Comic Book Guy and dozens more, and Katie thinks the baby will be a chip off the old block.
"He's going to come out already knowing all the voices," she said.
"He'll be exposed very quickly and we'll see if he takes to it or not," agreed Hank, who's ready to try out his silliest voices on the baby. "We'll see if he goes that way."
Source: PEOPLE
— Scott Huver