Gwen Stefani on Her Game Plan Gone Awry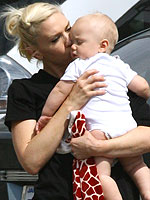 GSI Media
With summer just around the corner, No Doubt are gearing up for a major concert tour. This past weekend they played two mini-gigs as a warm-up to the main event, which was put off indefinitely by frontwoman Gwen Stefani's ever-growing family.
"We're calling it 'the procrastination tour,'" the 39-year-old songstress jokes to MTV Canada. "Well I am, at least. I'm the biggest procrastinator." It's easy to procrastinate with so much on your plate! Gwen — mom to Kingston James McGregor, 3 this month, and Zuma Nesta Rock, 8-months — points out,
"It's not their fault, it's my fault, because I had this whole game plan: 'OK, I'm gonna go on tour with my last record, I'm gonna come home, I'm gonna get pregnant, I'm gonna have a baby, but while I'm pregnant, I'm gonna make the No Doubt record.' That was, like, the plan, but it all didn't work."
After finally reuniting, the band — which includes members Tony Kanal, Adrian Young and Tom Dumont, the latter of whom also welcomed two sons during the band's latest hiatus  — "got a lot of hang-out time" in, but not much music was made. "Maybe around 4:45 to 5 o'clock we'd actually play the instruments and then we'd all have dinner," Gwen explains. "There was a lot of eating going on."
Once they made up their minds to go on tour, the creative juices really began to flow, however. "The four of us looked at each other and said, 'It's time to play,' and as soon as we said that, the pressure was lifted," Tony reveals. "We got really excited. It was like four adults became four little kids again. We're giddy about it."
Kingston and Zuma are Gwen's children with husband Gavin Rossdale.
Source: MTV Canada
— Missy