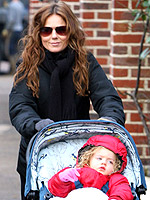 INF
Although she's at ease with her role as a single mom, songstress and author Geri Halliwell admits in a new interview that she never intended to become one. "I don't think it's the ideal scenario," she admits. "It's quite tough." Unlike others with her financial means, Geri takes care of daughter Bluebell Madonna, turning 3 this month, without the aide of a nanny when the twosome are at home in their native Britain. She tells the UK's Red magazine that she relies on her housekeeper for emergency childcare, and turned to writing children's books in order to provide more stability in Bluebell's everyday life.
"I wanted to write, because it meant I wouldn't be at work all the time. I could work in the house and still spend plenty of time with my child."
Being a stay-at-home mom, however, is not an option. Geri, 36, points to her own upbringing — with a mom who often took her along to janitorial jobs — for her work ethic. "From six years old, I went with her," Geri recalls. "She did the best with the tools she had."
"For me, it's that balancing act between giving my child the time she needs, but also finding something that is going to satisfy me as a working woman. That is a real juggle."
Click below for Geri's thoughts on the 'milk mafia.'
One of the biggest surprises of motherhood has been the guilt that so often arrives with baby. "As soon as you have a child, you get guilty," Geri says. "I'm always thinking, 'Is that good enough? Am I doing it right?'" Her decision to breastfeed was fraught with the emotion, but Geri says she now has no regrets about weaning Bluebell at five months. "It was a long time," she says. "Let it go!"
"And it's such a fib that it makes you thinner. That's a lie told by the milk mafia. I was extra-hungry. I was not dropping the baby weight."
Adding that her "boobs look alright," Geri concedes that they're "maybe not as tip-top as they were," but not so bad that she'd consider plastic surgery. "I would feel bad about … going under anesthetic," she explains. "I have a child; [What if] I died?" Her self-confidence with her image was not quite as high after Bluebell's birth, however, and Geri credits her girlfriends for pulling her out of the slump.
"I think a lot of women can lose their sense of self-assurance after they've had a baby. I was really encouraged by my girlfriends to get my high heels on and go out, so that I didn't feel just like a frumpy mother."
Her recent relationship (and engagement) to Fabrizio Politi ended almost as quickly as it began. Despite the whirlwind courtship, Geri insists that as a result of Bluebell she's "more cautious" about whom she dates, and that her taste in men has changed as well. "If somebody doesn't like children, they're not going to come near me," she explains. For now, Geri is content to live out a second childhood with her daughter. "There is a part of me that is quite child-like," she notes. "I love the innocence, the creativity; that gets so lost in the cynical world we live in."
"I hate it when I don't see Bluebell. It's like I'm addicted to her."
Geri's Ugenia Lavender book series is available now.
Source: Red
– Missy