Sarah Jessica Parker on the 'Sisterhood' of Working Moms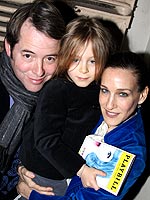 Bruce Glikas/FilmMagic
In a bit of foreshadowing — speaking one night before news broke that she's expecting twin daughters-via-surrogate — Sarah Jessica Parker admitted last Monday that "it's been a complicated past few weeks." Speaking from the premiere of husband Matthew Broderick's new play The Philanthropist, the 44-year-old actress said that the couple were intently focused on their 6 ½-year-old son James Wilkie, for Sarah Jessica herself is currently shooting the film Did You Hear About the Morgans? "Hopefully, our son is feeling loved and taken care of," she said, adding:
"I've felt very conflicted over the last few weeks…I can't really complain because it's my choice to work, but that doesn't mean I don't spend a better part of the day worrying about whether my family is getting enough [time] from me."
Sarah Jessica said that she takes comfort in knowing that she's not the only woman with such worries. "Any complications or any anxiety I feel is normal," she explained. "Any mother who wants to continue to work and have a career outside the home goes through this, so I feel very much a part of the sisterhood."
Unlike most children, James is able to grab a seat and watch his parents do their jobs; He did just that recently, attending the first day of previews for The Philanthropist, and liked what he saw! "He came home and told me, 'Papa knew his lines' and that he was 'dashing,'" Sarah Jessica shared, "and that Matthew's accent was very good." Their son is also interested in the strange hours mom and dad sometimes keep! Reveals Matthew,
"Once, when I got home [from rehearsal] at two in the morning, James came downstairs. I said, 'What are you doing up?' He just said, 'I want to see what the heck is happening.'"
Sarah Jessica and Matthew's babies-on-the-way are due this summer.
Source: NY Daily News