Jason Priestley Keeps Pregnancy Details Private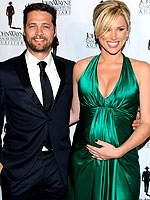 Todd Williamson/WireImage
Don't expect to be hearing any exciting updates from Jason Priestley and his expecting wife Naomi Lowde Priestley! In a new interview with Valentine in the Morning, the 39-year-old actor stayed mum when it came to divulging any details on their recently announced second pregnancy. "The baby is due sometime later this year," he shared before allowing his sentence to trail off.
In fact, according to the proud papa, the couple are hoping to keep the entire ordeal out of the spotlight.
"You know, bro, I'm trying to keep it on the down low … I'm not on the down low apparently, I'm not on the down low at all!"
One thing Jason will share? That they are conjuring up quite the list of possible baby names — for both a boy and girl, he coyly added! "We've got lots of names in the hopper," he explains.
Baby-on-the-way will join the couple's first child, daughter Ava Veronica, 22 months.
Source: Valentine in the Morning
– Anya