Brooke Shields Says Daughters Are Total Opposites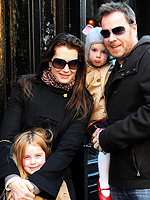 Hector Vallenilla/Pacific Coast News
When a mother's firstborn enters kindergarten, it can be tough for all involved. For Brooke Shields and daughter Rowan Frances, 6 this month, however, the tears were a one-way street. "There was no separation anxiety on her part, just mine," Brooke tells Babble Australia. "She was like, 'Don't let the door hit you on the way out.'"
"It was almost as if she was saying, 'And you are . . .? Oh right, my mother. We've met, haven't we?'"
The differences between Rowan and her little sister Grier Hammond, 3, are stark. So much so, Brooke says that her daughters "are the antithesis of one another." Whereas Rowan is "very analytical" and prefers to "think things through," Grier often acts out of "pure emotion," Brooke says. "You can't really raise your voice to her to prove your authority, because she'll just crumble," she explains. "Rowan will sort of smarten up and look at you and think, 'Okay, I get it. The stakes are really high. I'm going to now listen because Mom's serious.'"
While Grier skipped over the terrible twos, it looks as though the terrible threes are on her horizon! "I can tell she's about to enter that phase," Brooke concedes. "Then again, she would almost like to get back into the womb as well." While the 43-year-old actress considers herself "a blend" of the two, she suspects that she's "more like Rowan" because both are "very aware of how things sound and how they seem." She elaborates,
"Like me, Rowan is self-aware at a very young age. Grier could care less about being liked. Whatever she wants is what she wants and it's the most important thing. She doesn't believe in softening her response. Rowan is like, 'Okay, how do I navigate this?'"
Click below to read about Brooke's thoughts on the girls entering showbiz.
The biggest challenge of motherhood for Brooke? "Slowing my brain down long enough to hear them," she admits. "I'll go into function mode as long as they're fine; I make sure the school projects get done and the play dates are scheduled." But when she's trying to do "ten things at once," life becomes complicated — quickly! That's why Brooke says she's making a concerted effort to stay in the moment with her girls. "[It's about] sitting down and actually slowing down enough to color the coloring book, rather than giving them the coloring books while I'm doing emails," she explains. "They are starting to get to the stage when they say, 'Nevermind' or 'You don't understand.'"
"And I'll think, 'No, I do mind and you have to talk to me;' 'No, I don't understand and you need to explain it to me.' But it can't be rushed. It takes time, and I'm used to being on the move all the time and being busy all the time. So I need to be mindful of that."
When she is out and about with the girls, Brooke likes to make a day of it. "It usually involves something outdoors like the park," she says. "Sometimes we'll go get our nails done. It's usually the park and a movie or some kind of fun meal. We try to not come back for hours." Should Rowan and Grier choose to pursue acting, Brooke would not be supportive now — but says she'll be "much more amenable" to the idea once the girls have finished school. Brooke's battle with postpartum depression — chronicled in the book Down Came The Rain — continues to help other women, something Brooke says she's grateful for. That said, she experienced "none of it" with Grier, which she attributes to drastically differing circumstances.
"During my pregnancy I was able to find a medication in my third trimester that sort of kept me hormonally balanced but was totally safe for the baby. The doctors also monitored me. Plus, I got pregnant naturally. I was physically and biologically stronger."
Husband Chris Henchy continues to earn rave reviews from Brooke, who notes that although children can't fix a marriage they "can give you a whole new level of respect for your partner."
"I realize there's so much in the point of view that he provides that I wouldn't have if I were alone. My husband makes the time for our daughters. He works a lot, but what he does with the time he does have is pure. I've watched this since the girls were born. It's really something special."
So special, Brooke has documented that bond in her new children's book It's The Best Day Ever, Dad. Noting that she grew up in a fatherless home, Brooke says that witnessing Rowan and Grier's relationship with Chris evolve has been nothing short of magical. "When I watch my girls with their dad it's so sweet and it's so heartwarming…He's sort of their first love in a sweet, innocent kind of way," she explains. "I feel like they need me, but I feel like they're able to be more self-sufficient and their real personalities come out with their father."
"For my girls, mom is sort of laden with emotions. When they're sad, they want Mom. When they're hurt, they want Mom. So much of it is based on them needing me. And also, because I'm mom, I'm more of the disciplinarian. It feels like they need their dad in a sort of more independent level."
To that end, Rowan loves watching sports with her dad. Even though "she's not really interested in the sport per se," it's her time for one-on-one interaction with Chris. "It's almost like she has this inside joke with [with him]," Brooke says. "They're friends; they act like buddies."
Source: Babble Australia
— Missy