Rebecca Romijn on Life With Twins: 'It's Just Fun'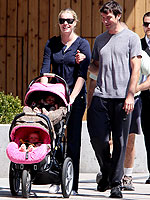 Sean O'Neill/INF
The first few months after a baby arrives are tough on almost every mom, and with twins — it only stands to reason — doubly so. Rebecca Romijn was braced for the worst, but has instead found that caring for Dolly Rebecca Rose and Charlie Tamara Tulip, 4 months, is far easier than she ever dared to dream. "They're really smiley and not fussy," the 36-year-old Ugly Betty star dishes to Extra! in her first interview since giving birth. "For four months old, it's supposed to be really difficult but I have to say, it's just fun."
Another pleasant surprise? How easy it's been to lose the baby weight. "I think within the first three weeks, I took off like 35 pounds without doing anything," Rebecca, who gained 60 pounds overall, reveals. "I haven't been able to work out that much because I have twins, [and] it's impossible to get back into a regular schedule." To that end, breastfeeding has been her biggest ally. "[It's] the very best diet I've been on," Rebecca says, adding,
"It's amazing. It's like you have to eat 5,000 extra calories a day or you can't produce enough food for them. So, that's been fun as well."
The breastfeeding relationship with her daughters has been put to the test as Rebecca shoots the new film The Love Child outside Toronto. "It has been complicated for a number of reasons," she explains. "Our hours have been really late and we're working outside of Toronto in Hamilton which is about an hour away, and I am still nursing [the babies] around the clock. So, we have to do a lot of milk runs." And although she's back on set, Rebecca is quick to clarify that looks can be deceiving. "We've got Spanx underneath almost everything," she reveals. "I'm not pretending to be back to the shape I was in beforehand anyway…I still have a ways to go."
Click below to read how Rebecca makes time for romance after baby.
Husband Jerry O'Connell earns high marks from Rebecca. "He's so awesome," she raves. "He's just like totally on diaper duty." The couple make a point to make time for each other, however, despite the chaos of life with their newborn twins.
"Because the grandparents are here, everybody switches off when they are taking care of the babies and it's working out perfectly…[Jerry and I] will end up sneaking away for an hour even if it is just around the corner from the hotel."
As was evident during Jerry's February appearance on The Ellen DeGeneres Show, the girls are easy to tell apart. "They look completely different," Rebecca observes. "One looks just like Jerry…Her name is Charlie and the other one looks just like me…Her name is Dolly."
"She's a blonde and Charlie is a brunette and I think they are both just gorgeous."
Source: Extra!
— Missy