Natascha McElhone and Sons In Full Bloom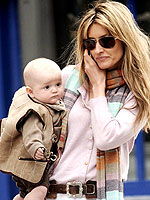 INF
One year after losing husband Martin Kelly to a heart attack, actress Natascha McElhone is optimistic about the future — both for herself, and for the couple's children Theo, 8, Otis, 5 and Rex, 6 months. "'My kids are still flourishing [and] it's remarkable to me," she tells The Observer. "And [they are] growing and learning more and more."
"I did think that if perhaps the roots of the tree were gone, the branches would no longer flower, but they are. It's remarkable."
There are daily challenges, however. It is important to the 37-year-old actress that the boys' way of life prior to losing their father carries on uninterrupted. That lifestyle — which Natascha describes as "not absurd but definitely privileged" — includes private school. "I want to keep them there because I don't want Martin going to be synonymous with our life changing…and it may be for the good or for the bad but I want the stability of their lives to remain intact for as long as possible," she explains. "[Theo and Otis] are both at schools they really love; they have really great friendships. Also, I want to give my baby the same opportunities they have."
To that end, Natascha admits that she's "up incredibly early in the morning," and that she goes to bed "incredibly late at night," just working to keep the family  financially afloat. For now, that includes filming Showtime's Californication, about to shoot its third season.
"For me, it's a few months of the year, in summer, in LA. It's the kids' school holidays. It's a no-brainer. It's wonderful. It's not like signing your life away."
Financial worries aside, the life of a single mom with three young sons is not for the faint of heart! "'It really is [a handful]," she admits. "I won't say it's not; it is a struggle, but one which I hope to rise to — or they tell me I do, which is very sweet." Making her job easier is the warm welcome Rex has received since his birth five months after Martin's passing. "The baby is so delicious, it's ridiculous," Natascha raves.
"My oldest son, he's like a little old man sometimes, he was holding him in his arms they other day and said, 'I can't look at him, Mummy, he's too cute.' So he's very loved by everyone."
Source: The Observer
Thanks to CBB reader Marie.
— Missy