Natalie Morales: Yes, I Still Wear Scrunchies!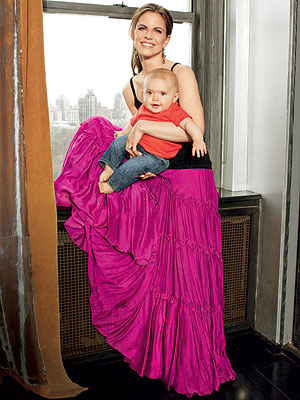 Andrew MacPherson for PEOPLE for use on CBB
Posing for PEOPLE in our new Most Beautiful issue, the Today show's Natalie Morales poses with her youngest son, 7 ½-month-old Luke Hudson. Also mom to Joseph 'Josh' Stockton, 4 ½, Natalie lets us in on her beauty secrets:
On having babies: [Pregnancy's] made me appreciate my body so much more. Having children is really what we are made for as women and to be able to see how your body just knows what to do … Beauty is more about what you're capable of doing with your body. I have always felt more beautiful pregnant. I fill out a little bit more, which helps! (laughs)
On her beauty routine: There's not much of a routine, I'll tell you that! On the weekends the hair's up in a ponytail or a scrunchie — yes, I still wear a scrunchie! — and there's no makeup. Sometimes you look better when you're less done. Lipstick or Chapstick I [do] always have on hand because otherwise I feel washed out.
On teaching her boys: I am not walking the schoolyard thinking I am a hot mom! There was a time in my 20s when it was all about looking cute in a little black dress. Now it's about what I am able to give my children: the confidence and the right attitude for life. That's what beauty is to me.
For more from Natalie, check out this video on PEOPLE.com!
Click here for yesterday's cutie!