Katie Holmes: Suri is a Pretty, Pretty Princess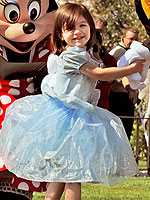 Disney
What began as a fairy tale encounter with a few of Disney's classical characters quickly turned into a 3-year-old princess party fit for none other than Suri Cruise! After a "great time" spent visiting with her new friends on the Disney World lawn in February, Suri was smitten with everything princess, her mom Katie Holmes tells Us Weekly. "It was her first time [at Disney World] and she loved the princesses," she says. "Actually, she loves being a princess."
The fun didn't stop with Suri's celebration! According to the proud mama, the mother-daughter duo love spending their time together catching up on all the classic princess films. Not only does Suri get her dose of the magical characters, 30-year-old Katie doesn't mind reliving her childhood memories as well!
"She loves Sleeping Beauty and all the Disney movies, and that's great because I get to revisit them all again."
That isn't to say dad Tom Cruise is left out. While the toddler is thrilled to spend time with her mom, Katie is quick to credit her husband with being equally involved. "Tom and I are great teammates as parents," she shares.
Source: Us Weekly
— Anya