Jennifer Garner Gushes About Her 'Great Partner'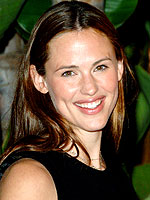 Jon Kopaloff/FilmMagic
Life on set often means clocking long hours and enduring hectic schedules; For those with office jobs, the steady work days of a nine to five generally provides a sense of stability. While Jennifer Garner has opted for the former, she tells PARADE she reaps the benefits of her decision when it comes to raising her two daughters. "I work really intensely on films but in a place where people are very respectful of me and my kids," she says. The actress is all too aware that spending her work day at a desk may not have been as forgiving!
"If I need to take a break and feed a baby, they let me. That isn't always the case for women in the corporate world."
Fortunately for Jennifer, she does not carry the responsibility of her girls alone: husband Ben Affleck is a top-notch dad! I have a great partner in raising kids," she boasts. "Ben is super involved and there with me." Confident in Ben's skills as a father, Jennifer sheepishly admits he deserves far more credit than she once gave him.
"Maybe I wrote out a few lists of what he was supposed to do for our first child while I was gone. But Ben can handle it. He's a great dad. I'm the one who is a wreck when I can't be with the kids."
While many may wonder how the celebrity couple spend their quiet evenings together long after daughters Violet Anne, 3, and Seraphina Rose Elizabeth, 3 ½ months, are fast asleep, the 37-year-old jokes that they are certainly not a pair of board-gamers! "Ben and I have a house that on some nights is sort of like a dojo," she laughs. "I have taught him some karate. He's a yellow belt."
Jennifer's new movie Ghosts of Girlfriends Past is in theaters today.
Source: PARADE
— Anya