Brad and Kimberly Paisley Auctioning Baby Swag For Charity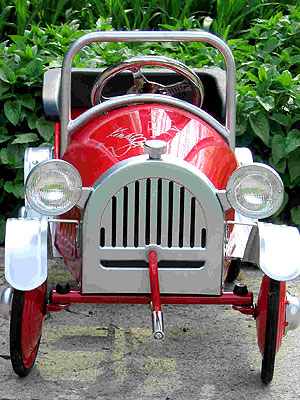 Amy Crownover
With two healthy young sons, Brad and Kimberly Paisley have much to be thankful for. That's why the couple of nine years have decided to pay their good fortune forward, auctioning off three family-themed items on eBay to benefit the Monroe Carell Jr. Children's Hospital at Vanderbilt.
The Nashville, Tenn. facility — ranked as one of the 10 best children's hospitals in the nation by Child magazine — offers the only Pediatric Emergency Department in Middle Tennessee, and treats more than 100,000 patients at outpatient clinics each year. With the help of Jewels and Pinstripes, the Paisleys have offered up an autographed PoshTots Roadster Pedal Car (pictured left), a Jewels and Pinstripes Let's Hear it for the Boys Celebrity Baby Bag valued at over $1,500, and a Mommy and Me Gift Set including items by Fisher-Price, stride rite, Robeez, Vera Bradley, Cardstore.com, Gold Canyon, Bloomers Baby and The Jumpitz.
Brad and Kimberly are parents to William Huckleberry, 2, and new baby Jasper Warren, 12-days.
To view their 'Bundle of Joy' auction, click here.