Boston Bruin Zdeno Chara Welcomes Daughter Elliz Victoria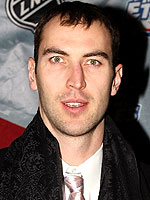 Nick Laham/Getty
At 6'9″ and 255 lbs., Boston Bruin Zdeno Chara is known for his abnormally large size, so the 32-year-old defenseman and team captain must be quite a sight while cradling his newborn daughter Elliz Victoria Chara. Born at 7:20 p.m. on Monday, April 27th, baby girl weighed in at a perfectly normal 7 lbs., 6 oz. Zdeno revealed that "it took a bit" for wife Tatiana to deliver, but ultimately "everything went well."
"It's so overwhelming. It's such an exciting thing in our lives, and we're looking forward to watching her grow."
Present for the birth, with Boston wrapping up its quarterfinal series against the Montreal Canadiens on April 22nd, Zdeno was clearly moved by what he witnessed. "You can't really describe, but it's just amazing," he told reporters. "It's beautiful, probably the best day of my life." It's a sentiment his teammate and fellow defenseman Andrew Ference knows well; He welcomed his second child — a daughter named Stella — in March. Andrew adds,
"Having a child and coming home to your kid puts everything in perspective. You won't get too high after a win or too low from a loss, but it's a good relief either way from the daily grind of the game. When you come home to your child, nothing else really matters. It's good. Makes you grow up."
Boston's next series, against the Carolina Hurricanes, begins Friday.
Source: NESN.com
Thanks to CBB readers Ella and Alyse.
-– Missy