Meet Ciel Taylor Lamar!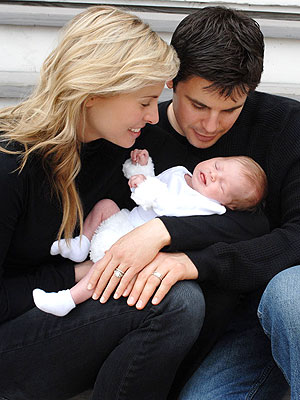 GSI Media for use on CBB
Could she be a model in the making like mama? Niki Taylor and Burney Lamar introduce their daughter, 8-week-old Ciel, in a photo released this week.
Weighing in at 7 lbs., 8 oz when she arrived on the morning of March 4th, Ciel is a special blessing for the pair, who struggled to conceive. Now proud parents, Burney, a NASCAR driver, calls fatherhood "amazing."
"She smells so good. And, this is going to sound funny, but even her breath smells good when she cries. And her crying is the cutest thing ever. She makes the sweetest faces. She is absolutely perfect."
Ciel is the first child for Burney and the third for Niki, who is also mom to 14-year-old identical twins, Hunter and Jake.
Ciel is wearing a white luxe layette set by Bloomers Baby ($68), included in a Jewels and Pinstripes Celebrity BUMP Bag.
CBB Deal: Use code CBB2009 for 25% off any Birth Day Box (expires 08/31/09).