Matthew McConaughey on More Kids: 'Sure, Maybe'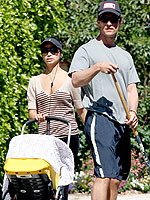 INF
The good times continue for Matthew McConaughey and his 9 ½-month-old son Levi. "This is going great right now," the 39-year-old actor tells the NY Daily News. "We're having a ball." When asked whether he and partner Camila Alves are planning to have more children, however, Matthew gives an answer that is open to interpretation! "Sure, maybe," he replied.
He went on to share some funny insights about his son. "No matter how many of those colorful toys you buy at Toys 'R Us or Babies 'R Us, his favorite toy is a carrot," Matthew reveals.
"He takes it everywhere. You've got to get a cold one. When it gets hot, he doesn't like it as much and you have to get a cold one out of the fridge. Because it's cold it feels good on his teeth, but he just likes the carrot."
When he filmed his latest movie — Ghosts of Girlfriends Past — Camila was newly pregnant. The timing couldn't have been better for Matthew on a personal level, for he was working alongside established mom Jennifer Garner. "She didn't give me tips, but she's pretty graceful with how she handles both working on set and taking care of her — well, back then it was just one daughter," Matthew revealed. "From the outset, she made it seem seamless, there was no sort of struggle."
Levi is the first child for Matthew and Camila; Jennifer is mom to Violet Anne, 3, and Seraphina Rose Elizabeth, 3 ½-months, with husband Ben Affleck.  Ghosts of Girlfriends Past opens May 1st.
Source: NY Daily News
-– Missy